May 4, 2012
2011-12 Season - Vikings beat IWU in first round of CCIW Tournament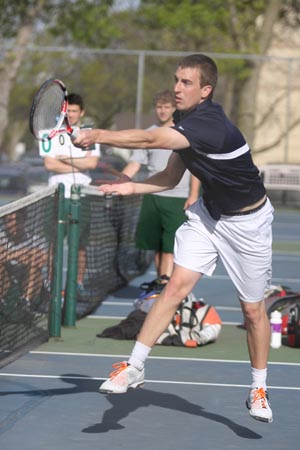 Senior Adam DeSimone clinched the Vikings' 5-3 win over Illinois Wesleyan in the first round of the CCIW tennis tournament with a 2-6; 7-6; 6-4 win over Brian Piotrowski at number one singles.
ROCK ISLAND, Ill. - Senior Adam DeSimone (Bettendorf HS, Bettendorf, Iowa) closed out Augustana's 5-3 victory over Illinois Wesleyan with a hard-fought win at number one singles on Friday, May 4 in the first round of the College Conference of Illinois & Wisconsin men's tennis tournament. The victory allowed the Vikings to move into the semi-finals against number one seeded Wheaton.
DeSimone beat the Titans' Brian Piotrowski 2-6; 7-6 (7-3); 6-4 to move his season record to 15-14. His win made the number two singles match between sophomore Andy Wall (Notre Dame Academy, DePere, Wis.) and Brian Sorich inconsequential. As a result, it was unfinished after Wall lost the first set 5-7 and won the second 6-4.
Augustana took a 2-1 lead after the doubles' round with junior Jack Cullen (Edgewood HS, Madison, Wis.) and sophomore Colin Arnold (Sterling HS, Sterling, Ill.) picking up a 9-8 victory over Nick Kenega and Michael Christison at number two. Cullen and Arnold moved to 18-4 this year. The number three team of sophomore Kevin Bayles (Homewood-Flossmoor HS, Flossmoor, Ill.) and junior Will Palme (Schiller International School, Leicester, England) beat Aaron Guenther and Steven Hayman 8-5. Bayles and Palmer moved to 3-0 on the year.
Bayles beat Kevin Piotrowski 6-1; 6-3 at number five singles to jump to 20-6 while sophomore Grant Wick (Windsor HS, Fort Collins, Colo.) beat Hayman7-5; 6-2 to up his mark to 8-4.
Augustana is now 16-9 overall.
SINGLES
1 - Adam DeSimone (A) beat Brain Piotrowsk (IW) 2-6; 7-6; 6-4
2 - Andy Wall (A) vs. Bran Sorich (IW) 5-7; 6-4, unfinished
3 - Nick Kenaga (IW) beat Jack Cullen (A) 6-1; 6-4
4 - Aaron Guenther (IW) beat Colin Arnold (A) 7-5; 6-4
5 - Kevin Bayles (A) beat Kevin Piotrowski (IW) 6-1; 6-3
6 - Grant Wick (A) beat Steven Hayman (IW) 7-5; 6-2
DOUBLES
1 - Brian Piotrowski/Brian Sorich (IW) beat Adam DeSimone/Andy Wall (A) 9-8
2 - Jack Cullen/Colin Arnold (A) beat Nick Kenaga/Michael Christison (IW) 9-8
3 - Kevin Bayles/Will Palmer (A) beat Aaron Guenther/Steve Hayman (IW) 8-5