Five Questions for: Lynn Jackson
May  09, 2012
Five Questions is a series of profiles of people at Augustana College. Lynn Jackson delivers the answers today. If you know someone you'd like to see profiled, send his or her name and a note to sharenews@augustana.edu.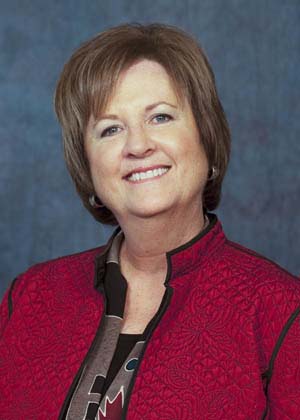 Lynn Jackson, vice president for advancement. (Augustana Photo Bureau/Marla Alvarado-Neuerburg)

In February 2009, Lynn Jackson joined Augustana College as the vice president for advancement, thereby assuming leadership for Authentically Augustana: A Call to Action, the college's ambitious capital campaign. At that point, economic times were tough, other colleges were postponing fund-raising plans, and many believed the Augustana campaign had nearly topped out. Jackson and her team raised $152 million, exceeding the original campaign goal by more than $52 million.
1. Authentically Augustana: A Call to Action raised more than $152 million. What are the top three or four things the college will be able to do with these funds?
We'll be able to afford more financial aid for students. The No. 1 fund-raising goal for our office is to increase funds for scholarships. Secondly, a significant portion of the funds we've raised in this campaign will go into several building projects, including the new Center for Student Life, Old Main, the new football stadium, two residence halls and Emmy Carlsson Evald Hall. I think third is in the area of enhancing the student experience. We want to continue to reach out to donors and raise funds to support Augie Choice and through this program provide our students with opportunities for powerful faculty-led research, internship and study abroad experiences.
2. If you were to write a book on the art and science of fundraising, what would the title of that book be?
The title would be, "It's all about the heart." A leader has to put systems in place — the science of fundraising — first. Once the systems are in place we as gift officers can pursue what is really rewarding about our job: Discovering where a potential donor's heart is and how to match their passion and imagination to opportunities to advance the college.
3. Whom would you list in the acknowledgements in this book?
I would have to acknowledge two great college presidents for whom I have worked: Steve Bahls at Augustana, and Jimmy Jones at Kalamazoo College in Michigan. And I would have to acknowledge both my husband, Larry, who lives this with me every day, and my son, Garren Katz. Garren is a business and life coach and an entrepreneur, and I really value his input. My wonderful staff would be in there, as well. I would also want to mention John Heerspink, the man who taught me the most about the art and science of fundraising for planned giving. My parents have been gone now for some time, but they both instilled a work ethic and how to have fun throughout my life. Finally, I would acknowledge my Aunt Happy, who has always been there for me.
4. You pack a lot into a workday. What does a good day look like in the advancement world?
Today is a great day. I just signed an agreement today that will add $50,000 to our endowment. This will go right into funding a scholarship. Mondays always start with our Monday Morning Meeting. We meet to discuss the visits the calling officers have scheduled and we work as a team to develop strategies that help us get the most out of our efforts. A few years back, I would have said the best days were ones where I was able to bring in new gifts. Now, I find that mentoring my staff and seeing them succeed is far more rewarding.
5. Your job is pretty taxing. You spend a lot of time on the road and there is never a shortage of new and challenging fundraising goals. What do you do to decompress when you get a chance?
We have a lake house in Michigan that has been in my family for more than 125 years. My grandparents came over from England and were fortunate to homestead and farm on land that had a 720-acre lake right in the middle of their farm. They built their house on a little bluff overlooking the lake, and my mom and her sisters were born there. So, for so many reasons, it is near and dear to my heart. When we drive up the driveway and I step out of the car, the feeling that comes over me is amazing. My stress goes away instantly. I like to sit out on the deck with a hot cup of coffee and read — I usually have three or four books going at any one time.
Five Questions recently has featured: