May 3, 2012
2012 Season - Vikings ranked third in NCAA heading into CCIW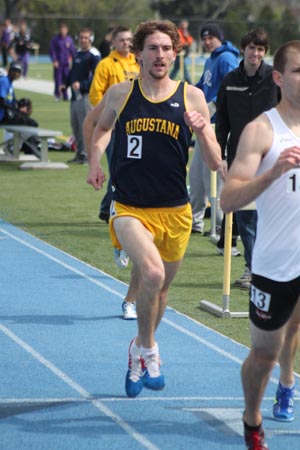 Mike Tisza, the defending College Conference of Illinois & Wisconsin champion in the 5,000, and the Augustana Vikings will head into the CCIW meet as the third ranked team in NCAA Division III.
ROCK ISLAND, Illinois – Heading into the College Conference of Illinois and Wisconsin conference meet on Friday, May 4, and Saturday, May 5 in Bloomington Illinois, Augustana is ranked third in the NCAA Division III dual meet power rankings. The Vikings have been a strong presence near the top of the polls for the entire season.
This poll, conducted by the U.S. Track & Field and Cross Country Coaches Association, quantifies the depth of each team. The team's total score is the sum of all points earned in each event. Two individual athletes are scored per event, as well as one relay team. The points are based on the best marks of an event in the current season, with the faster times and farther distances worth more.
Whitworth continues to hold on to the top spot in the nation with 218.29 points. Wisconsin-Whitewater claims the second slot in the rankings with 217.37 points. Augustana tallies 215.10 points to claim the third spot while CCIW rival North Central College is fourth with 213.79. Wabash rounds out the top having accumulated 210.62 points in the rankings.
The Vikings have put together a tremendous season thus far. They have won two meets thus far (Viking Olympics and Meet of Champions) and have not placed lower than fourth in the team standings at any of the other meets they have attended during the 2012 outdoor season. In addition to great team success, individual members of the team have had great campaigns as several schools records have fallen and many individual titles have been won.
Augustana will travel to the campus of Illinois Wesleyan in Bloomington, Illinois to compete in the CCIW conference meet on Friday, May 4 and Saturday, May 5.
2012 NCAA DIVISION III OUTDOOR DUAL MEET POWER RANKINGS
Sponsored by the USTFCCA
As of 05/01/2012
POLL #6
| | | | |
| --- | --- | --- | --- |
| RANK | SCHOOL | REGION | POINTS |
| 1. | Whitworth | West | 218.29 |
| 2. | Wisconsin-Whitewater | Midwest | 217.37 |
| 3. | Augustana | Midwest | 215.10 |
| 4. | North Central | Midwest | 213.79 |
| 5. | Wabash | Great Lakes | 210.62 |
| 6. | Wisconsin-La Crosse | Midwest | 207.04 |
| 7. | Wisconsin-Stout | Midwest | 206.58 |
| 8. | Bates | New England | 206.57 |
| 9. | Wisconsin-Platteville | Midwest | 204.01 |
| 10. | Tufts | New England | 202.41 |