Scholarships provide a Golden opportunity
May  03, 2012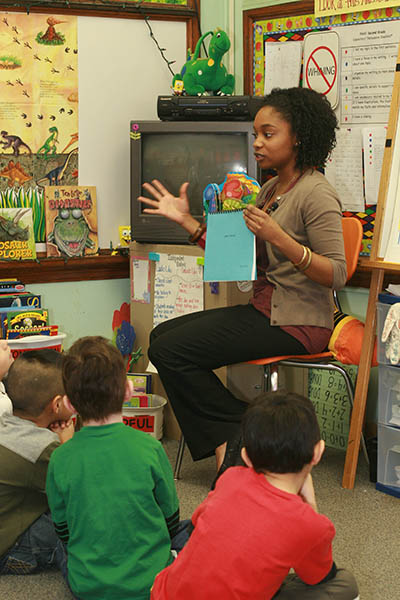 Augustana junior Alannah Golden is majoring in elementary education.
Rock Island's Franz "Bud" Helpenstell didn't receive any scholarship money when he was studying business at Grinnell College back in the '50s. "College didn't cost so much in those days," he noted. But he always had a part-time job, whether it was waiting tables or working with the college's grounds crew, to help pay his expenses.
To help Rock Island High School graduates achieve their college dreams, Helpenstell and his late wife Esta established a scholarship at Augustana in 2001 to be awarded on the basis of academic achievement and financial need, with preference given to Rocky graduates.
"I know there's a need out there and I'd like to see more Rock Island High School students come to Augustana," said Helpenstell, chairman of A.D. Huesing Corp. and former member of the Augustana Board of Trustees. "And if the scholarship helps reduce the amount of a student's debt, all the better."
Alannah Golden graduated from Rock Island High in 2009. Now a junior majoring in elementary education at Augustana, Golden received the Franz and Esta Helpenstell Scholarship this year, in addition to two other endowed scholarships.
"The scholarships I received from Augustana were vital," she said. "Without the generosity of funders, it would not be possible for me to attend this amazing institution."
Choosing a major was easy for Golden. "I am the eldest of three daughters, and so in a sense I have always been a teacher," she said. "I decided to seek a career in education because of the gratifying feelings I experienced helping my younger sisters."
Golden said the anticipation is building as she waits for her student teaching placement. "Augustana's education department is filled with outstanding professors who I feel have more than prepared me for the next chapter of my life," she said.
During the college's recent Authentically Augustana campaign, 57 endowed scholarships were established, raising the number of endowed scholarships at Augustana to 649.
"We have a much larger number of endowed scholarships compared with other schools of our size," said Lynn Jackson, vice president of advancement. "Overwhelmingly, they are funded by alumni who want others to be able to have the Augustana experience. That says a lot."
Although Helpenstell did not graduate from Augustana, his late daughter Amy received her bachelor's degree from Augustana in 1992. An endowed scholarship in Amy Helpenstell's name was established in 1997 through her estate. This scholarship is awarded to Quad Cities area students with demonstrated financial need, with first preference to English or foreign language majors.
"For those who want to make a big difference in a young person's life, I can't think of a better way than helping them earn a college degree," Jackson said.
Sam Schlouch
Senior Communication Director
(309) 794-7833
samschlouch@augustana.edu