A donor's gift continues well beyond Augustana
May  03, 2012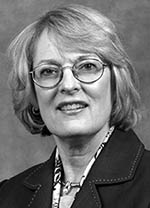 Diane Gustafson Hill
Diane Gustafson Hill '66 has made a gift to name Augustana's audiology lab in the Center for Speech, Language, and Hearing.
Hill received her B.A. at Augustana in speech therapy, then taught and worked as a speech therapist in Bloomington, Minn., before completing an M.A. in speech/language pathology at Northwestern University in 1969. She worked at Northwestern as a clinical instructor and senior lecturer until her retirement in 2002.
Her background is speech pathology rather than audiology, and Hill remarked on the close relationship of these areas in communication disorders. "My mother had a profound hearing loss, and so I was very aware of her challenges, and of the necessity for high quality assessment facilities for all kinds of communication factors," she said.
"I wanted to contribute to the Authentically Augustana capital campaign, and when I heard about the new audiology facilities, it seemed like a perfect fit," she said.
Hill's gift has a direct impact on the experience of Augustana students in the Center for Speech, Language, and Hearing on campus, especially the important hands-on training that prepares them for their careers as speech pathologists and audiologists.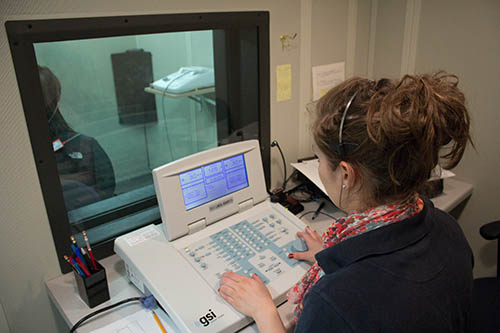 Lisa Schippers' Senior Inquiry project is to work with volunteers to do screenings that will calibrate the new audiology booth. (Augustana Photo Bureau/Faye Marek)
Moline native Lisa Schippers '12 discovered her vocation when she was only in 8th grade. "Before then," she said, "I knew I wanted to work with children, but I wasn't sure exactly how."
Her mother, a bookkeeper for the Hampton (Ill.) school system, shared an office with a speech pathologist. She suggested that Lisa shadow her at work, and that was all it took. Luckily for Schippers, she already lived in a community that offered a premier undergraduate program in communication sciences and disorders (CSD).
"Augustana is the greatest for its clinical experience," she said. "At a lot of schools, students might just major in biology and take classes in speech pathology or audiology. Here, we even have anatomy classes specific to CSD, and I've been working in the clinic since my junior year.
"I've learned lesson planning, and I've worked with kids with disorders," she said. "That hands-on experience is exactly what I wanted."
Like all CSD and most Augustana seniors, this spring Schippers is completing her Senior Inquiry — the Augustana capstone that asks students to draw upon their learning and work with a professor to create a substantive project that benefits a community. Her Senior Inquiry project will benefit the Quad-Cities community directly through her work to enhance the year-old hearing lab in the Center for Speech, Language, and Hearing. The sound-treated booth and special audiology equipment were made possible through grants from the Riverboat Development Authority, the Community Foundation of the Great River Bend and the Scott County Regional Authority.
"My advisor, Dr. Ann Perreau, suggested something we really needed for our audiology booth — so I'm working with volunteers for hearing screenings that will help me to calibrate the masking levels for this particular booth," Schippers said. Echoing Hill's thoughts, she said, "Even though I'm a speech pathology and not an audiology major, this process is something we all need to understand."
To get the results she'll need to complete her project, Schippers operates an audiometer on one side of the lab, while a volunteer in headphones sits on the other side of a window partition. Presenting noise at different frequencies interspersed with tones, she notes and records the client's aural response to the tones. This helps her determine the "masking level," or the level of noise that is required to change the client's perception of the tones. At the culmination of her project, the masking levels for various frequencies will be posted in the lab, for ease of use by future audiology students and professionals.
"She's taken a very active role with her project," said Dr. Perreau, an assistant professor of communication sciences and disorders specializing in audiology. Dr. Perreau arrived to teach at Augustana around the same time as the audiology facilities, in fall of 2011. She is even more satisfied with the lab's capabilities than she had at first anticipated.
"We can identify hearing loss during the diagnosis stage, and now we also can provide intervention," she said. "We are working with hearing aids sooner than I had expected, and we already have fit two clients with devices."
Many clients are family members of Augustana employees; others come from the Quad Cities community. "We don't need referrals," said Dr. Perreau. "Anyone, any age, can come for testing as well as for hearing aid fittings."
With the support of Diane Gustafson Hill, the college and community may continue to expect high quality academic, diagnostic, and intervention programs in the field of CSD at Augustana. "Being non-profit we largely rely upon others for financial assistance," said Dr. Perreau. "Having Diane's support is a great thing, and we are so pleased she is willing to do that."
The impact of donors such as Hill continues well beyond Augustana, as graduates apply their skills and knowledge throughout their professional lives. Lisa Schippers plans to remain in the community and work for a year after graduation — in the schools or perhaps at the Quad Cities Autism Center — and then pursue graduate studies.
Sam Schlouch
Senior Communication Director
(309) 794-7833
samschlouch@augustana.edu