May 2, 2012
2011-12 Season - High scoring Vikings lead NCAA in four categories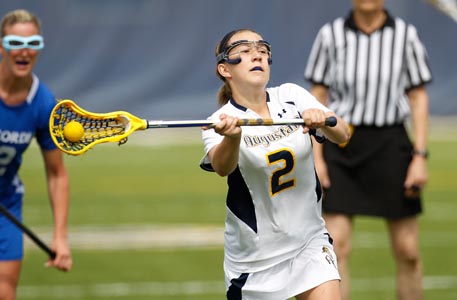 Freshman Hilary Kargl currently leads NCAA Division III in total goals with 97. Augustana is the nation's leader in total points (507), scoring offense (19.22) and scoring margin.
The Augustana varsity women's lacrosse had no problem putting the ball in the back of the net in its inaugural season. The Vikings close the regular season as the NCAA Division III leaders in three statistical categories on the offensive side of the ball and are second in another. Head coach Sara Tisdale's team ends the season on a nine game winning streak to finish the regular season 15-3 overall.
The Vikings end the regular season leading NCAA Division III in total points (346 goals and 161 assists) with 507, and scoring offense at 19.22 goals per game. In addition, freshman Hilary Kargl (Sacred Heart Academy, Louisville, Ky.) leads the nation in goals scored with 97 and she is second in total points with 120 (97 goals and 23 assists). She is third in goals per game with a 5.39 per-game-average and fourth in points per game at 6.67.
Augustana's defense was stout all year as well. The Vikings close the regular season ranked second in caused turnovers with an average of 13.61 per game while also being ranked 20th in scoring defense with an 8.06 goals against average. The combination of an explosive offense and a stifling defense make Augustana the top ranked team in scoring margin at 11.17 (19.22 goals-for and 8.06 goals-against). The Vikings are also 19th in draw controls with an average of 15.89 per game.
Besides Kargl, several other Augustana players are high in individual statistical categories. Freshman Sarah Osier (Naperville Central HS, Naperville, Ill.) is 21st in goals-against-average at 8.18 with 144 goals allowed in 1043 minutes of action. Freshman Hannah Dickman (Stillwater HS, Stillwater, Minn.) is 30th in the nation in assists per game with a 2.06 average.
The Vikings finish the regular season with a record of 15-3. This record is good enough to give them a winning percentage of 0.833 which ranks them 16th in the nation.