May 2, 2012
2011-12 Season - Men's lacrosse ranked third in NCAA scoring defense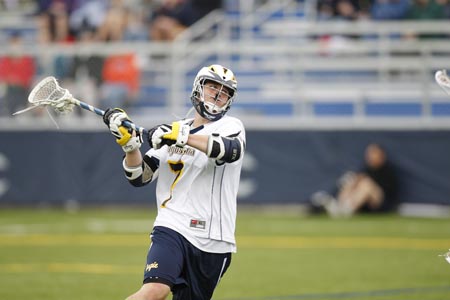 Freshman Jesse Nagelberg led the Vikings with 39 goals and ranks 30th in NCAA Division III in goals-per-game average at 2.71.
At the conclusion of its final regular season game in its inaugural season, Augustana's men's varsity lacrosse team finds itself ranked highly in multiple categories in the NCAA Division III statistics. The Vikings end their season boasting the third best scoring defense in the nation. The team also has individuals who rank in the top 25 for individual statistical categories.
From the opening whistle of the season to the closing horn, first year head coach Kyle Hart's team prided itself on defense. In 14 games this season, the Vikings gave up just 72 goals for an average of 5.14 per game. They pitched two shutouts this year and eight times they held opponents to five goals or less. The Vikings are narrowly behind the national leader in scoring defense. Cabrini leads the nation with a 4.6 goals against average.
Freshman goalkeeper Cody Burgdorff (Peat to Peak HS, Lafayette, Colo.) is 12th individually in goals-against-average with an average of 6.27. He gave up 70 goals in 670 minutes. Burgdorff is also 21st in save percentage with a mark of .611. He recorded 110 saves for the season.
Freshman attacker Jesse Nagelberg's (St. Charles East HS, St. Charles, Ill.) 39 goals leads the team and has him ranked 30th in goals-per-game with a 2.71 average.
As a team the Vikings rank 35th in scoring margin. Augustana is averaged 8.79 goals per game and gave up 5.14 for a scoring margin of 3.64.
Augustana ends its inaugural season with an 8-6 record.