May 1, 2012
2012 Season - Dubuque handles fog and Vikings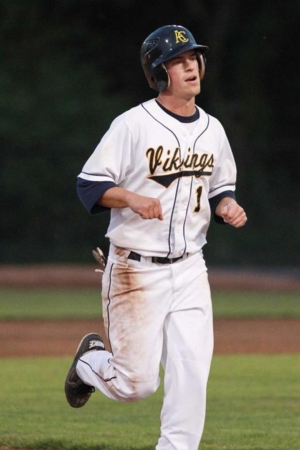 Reigning CCIW Hitter of the Week Jeremy Juhl went 3-for-5 with two runs scored and three driven in Tuesday, but it wasn't enough to prevent Augustana from falling 10-9 to Dubuque at Swanson Stadium/Brunner Field.
MOLINE, Ill.-Augustana spotted Dubuque and early 9-0 lead, came back to cut it to 10-9 and waited out a 10-minute, sixth-inning fog delay, but could never manage to push across the tying run, falling 10-9 in an eventful contest at Swanson Stadium/Brunner Field Tuesday night. The loss drops the Vikings to 24-13 on the year, while the Spartans improve to 16-20.
Dubuque took advantage of three walks and five Viking errors in the first three innings to take a 9-0 lead. Two of Augustana's miscues came in the first inning when the Spartans touched starter Kevin Hodgman (Neuqua Valley HS, Naperville, Ill.) for two runs, one of which was unearned. He left two runners stranded and did the same in the second, when Dubuque failed to score.
The visitors exploded for seven runs in the third. Hodgman walked Zakary Kilpatrick to start the inning. One out later, Spencer Kuehn singled him to second. A fielder's choice left runners at first and third with two out, but Baldocchi kept the inning going with an RBI single to right. Andrew Danna had a two-run single later in the frame that knocked Hodgman out in favor of Ben Heaton (Bloomington Central Catholic HS, Heyworth, Ill.). Christopher Briggs added a two-run single as well and a Kilpatrick single drove in Briggs with the final run of the inning to give Dubuque a 9-0 lead after two and a half innings.
The Vikings, who left two runners stranded in each of the first two innings, finally got to Spartan starter Elliott Visuri for a run in the third. Jeremy Juhl (Glenbard East HS, Lombard, Ill.) led off with one of his three hits on the night, a single to right, and came around to score on a double by Joe Cecchi (Romeoville HS, Romeoville, Ill.).
Juhl's two-run double in the fourth cut the Dubuque lead to 9-3 and Kurt Schmidt added a two-run single later in the inning to make it 9-5 after four.
A Danna triple and Kilpatrick single scored a Spartan run in the top of the fifth, but Augustana continued its comeback, scoring four more in the bottom half to get within a run. Pinch-hitter Jared McIntosh (Assumption HS, Davenport, Iowa) led off with a base-on-balls and the next batter, Kevin Serna (Rolling Meadows HS, Arlington Heights), was hit by a pitch. That was all for Visuri, who gave way to Joshua Eastman. A Jacob VanDuyne (Wilmington HS, Wilmington, Ill.) bunt single loaded the bases and Juhl followed with a sacrifice fly to cut the deficit to 10-6. Grant Stewart (Sterling HS, Sterling, Ill.) singled in another run and two more scored when Dubuque booted a Schmidt grounder and suddenly it was 10-9.
Brian Konecke (Lakes Community HS, Itasca, Ill.) came on in relief of Heaton to start the sixth and retired Dubuque without scoring. A patch of fog had slowly been rolling through the Swanson/Brunner outfield for a few innings and by the middle of the sixth, it had reached the infield and was deemed too severe to continue play. The umpiring crew decided to delay to contest.
After about 10 minutes, the fog left and play resumed, but unfortunately for the Vikings, both teams' offenses left with it. After 19 runs and 22 hits in the first five and a half innings, the two teams combined for a grand total of three hits and no runs in the final three and a half. Konecke and Josiah Martin (Canton HS, Canton, Ill.) each threw two scoreless innings for the Vikings and Eastman threw the final five for the Spartans, allowing just a pair of unearned runs after entering in the fifth. He struck out the side in the ninth, including a pair of called third strikes, and picked up his fourth win in six decisions. Hodgman, who lasted just 2 2/3 innings, fell to 2-2 with the loss.
Juhl went 3-for-5 with two runs and three RBI and VanDuyne had three hits and a pair of runs scored. Augustana had 13 hits, but stranded a dozen runners in the contest.
The Vikings now prepare for a huge three game series with Millikin at Swanson/Brunner to close the regular season. The teams play a doubleheader on Saturday, May 5 at 1:00 p.m. and a single game on Sunday, May 6 at noon.