April 29, 2012
2011-12 Season - Vikings win two and move to 15-10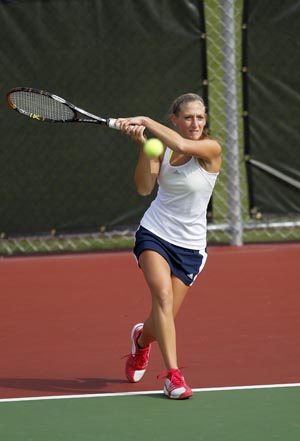 Sophomore Kim Sawyer won a pair of singles matches as Augustana defeated Loras 9-0 and Beloit 8-1 on Sunday, April 29 in Dubuque, Iowa. Sawyer is now 27-6 on the season in singles competition.
DUBUQUE, Iowa - The Augustana women's tennis team put the finishing touches on the regular season with a pair of non-conference victories on Sunday, April 29 in Dubuque, Iowa. Head coach Jon Miedema's Vikings beat Loras 9-0 and Beloit 8-1 to move to 15-10 overall.
Augustana will play in the College Conference of Illinois & Wisconsin's NCAA Division III national qualifying tournament on Friday, May 4. The Vikings, the number four seed after finishing fourth in the CCIW Tournament last fall, will take on number one seed Wheaton in an opening round match. Augustana is the host for the event and the Vikings and the Thunder are scheduled to play at 1:30 on Friday at the Quad City Tennis Center in Moline, Illinois.
Sophomore Kim Sawyer (Batavia HS, Batavia, Ill.) won both her singles and doubles competition in the Vikings' two victories and she is now 27-6 in singles competition and she is 14-15 in doubles play this year.
Augustana has won its last four matches and 10 of its last 14.
AUGUSTANA 9, LORAS 0
The Vikings dominated the DuHawks, jumping off to a 3-0 lead after the doubles round and then winning all six singles competitions to finish with a 9-0 victory.
Sawyer and senior Brittany Reece (Neuqua Valley HS, Naperville, Ill.) picked up an 8-4 win over Ale Ruales and Rachel Weglarz at number one doubles while freshman Miranda Pence (Oswego HS, Oswego, Ill.) and junior Krista Panko (Geneva HS, Geneva, Ill.) beat Est Mungai and Caroline Rainey 8-1 at number two. The Vikings' number three team of sophomore Caitee Margenthaler (Moline HS, Moline, Ill.) and sophomore Katie Scharnagle (Wheaton St. Francis HS, Lisle, Ill.) defeated Rebeccas Weglarz and Emily Morrison 8-2 at number three.
Sawyer beat Ruales 6-1; 6-0 at number one and Reece handled Sarah Alt 6-1; 6-0 at number two. Junior Meghan Wethington (Geneseo HS, Geneseo, Ill.) defeated Rainey in a tight 4-6; 6-3; 10-3 battle at number three. Sophomore Mariah Bardo (Sterling HS, Sterling, Ill.) took care of Weglarz 6-3; 6-1 at number four. Sophomore Emily Kaczmarek (Glenbard South HS, Lombard, Ill.) won over Mungai at number five by a score of 6-0; 6-1. Sophomore Callie Winter (Downers Grove South HS, Downers Grove, Ill.) went three sets with Carley Villano before winning 6-3; 4-6; 10-2.
SINGLES
1 - Kim Sawyer (A) beat Ale Ruales (L) 6-1; 6-0
2 - Brittany Reece (A) beat Sarah Alt (L) 6-1; 6-0
3 - Meghan Wethington (A) beat Caroline Rainey (L) 4-6; 6-3; 10-3
4 - Mariah Bardo (A) beat Rachel Weglarz (L) 6-3; 6-1
5 - Emily Kaczmarek (A) beat Est Mungai (L) 6-0; 6-1
6 - Callie Winter (A) Carley Villano (L) 6-3; 4-6; 10-2
DOUBLES
1 - Kim Sawyer/Brittany Reece (A) beat Ale Ruales/Rachel Weglarz (L) 8-4
2 - Miranda Pence/Krista Panko (A) beat Est Mungai/Caroline Rainey (L) 8-1
3 - Caitee Margenthaler/Katie Scharnagle (A) beat Rebecca Weglarz/Emily Morrison (L) 8-2
AUGUSTANA 8, BELOIT 1
A loss at number four singles was the only thing that stood between Augustana and back-to-back 9-0 wins on the last competition of the 2011-12 regular season. The Vikings defeated Beloit 8-1 in Dubuque, Iowa to finish the year with a 15-10 dual meet record pending the CCIW's NCAA Automatic Qualifier on May 4-5.
Sawyer won two more matches, taking care of Courtney Yates at number one singles by a score of 6-0; 6-0 to move her record to 27-6 on the year. She teamed with Wethington at number one doubles to beat Yates and Maria Mears 8-0.
Reece took care of Mears at number two singles by a score of 6-0; 6-2 and Panko beat Alex Hinck at number three 4-6; 6-2; 10-5. Scharnagle won at number five over Lucia Peralta 6-3; 6-0 and Bardo defeated Paola Schnabel 6-1; 6-0 at number six.
Panko and Reece beat Hinck and Ashley Miglin 8-4 at number two and Kaczmarek and Pence beat Schnable and Peralta 8-0 at number three.
SINGLES
1 - Kim Sawyer (A) beat Courtney Yates (B) 6-0; 6-0
2 - Brittany Reece (A) beat Maria Mears (B) 6-0; 6-2
3 - Krista Panko (A) beat Alex Hinck (B) 4-6; 6-2; 10-5
4 - Ashley Miglin (B) beat Meghan Wethington (A) 6-3; 6-1
5 - Katie Scharnagle (A) beat Lucia Peralta (B) 6-3; 6-0
6 - Maria Bardo (A) bet Paola Schnable (B) 6-1; 6-0
DOUBLES
1 - Kim Sawyer/Meghan Wethington (A) beat Courtney Yates/Maria Mears (B) 8-0
2 - Krista Panko/Brittany Reece (A) beat Alex Hinck/Ashley Miglin (B) 8-4
3 - Emily Kaczmarek/Miranda Pence (A) beat Paola Schnabel/Lucia Peralta (B) 8-0