May 2012
Predictive modeling helps advancement team win big
You might think the parallels between the life of advancement's Chris Myers '91 and the movie Moneyball (based on a book by Michael Lewis) are tied to Myers' two-season stint as catcher on the Bradley University baseball team or his years of volunteering as a little league coach. But, not really.
In Moneyball, the Oakland A's general manager Billy Beane, played by Brad Pitt, works with a statistics wizard Peter Brand, played by Jonah Hill, to strategically pinpoint the best players and build a winning team.
In his office in Sorensen, Chris spends approximately 75 percent of his time proactively identifying good prospects for giving to the college. This process, known as predictive modeling, has evolved in recent years and calculates the likelihood of alumni giving based on a number of data points. Once Chris runs the numbers, which he says are refreshed almost weekly, he passes information off to the gift officers, giving them a better sense of whom to approach and how to utilize resources.
"Big businesses have been using predictive modeling to focus on their best customers for years," Chris said, "but Augustana is one of a few liberal arts colleges using it to predict donors." He estimates about 2 percent of liberal arts colleges are doing in-house predictive modeling, while most colleges are using consultants and vendors to do what he does.
Chris is grateful for the support of business department professors who are helping him enrich the predictive modeling program. He also recognizes the impact of his liberal arts education and Augie degree. "My education gave me the skills, confidence and competence to do this work," he said. "It also fostered a love of reading and writing—and, of course, research."
Having just completed a $152 million campaign, Vice President of Advancement Lynn Jackson recognizes the position Chris plays on her all-star team. She acknowledged, "We wouldn't be where we are without Chris' work and predictive modeling."
Field Notes
For Field Notes, sophomore geography major Erek Bell wrote notes about a learning experience in the field during his geography 103 class, Water and Land Resources, taught by Norm Moline.
Seven other students from different perspectives and disciplines and I were given an interesting challenge: imagine that impending suburban growth is spreading into southwest Rock Island, as is happening around many American cities. We were assigned a parcel of land of about 640 acres located off of Turkey Hollow Road, for which we needed to propose a cohesive future land use plan that would accommodate multiple residents AND still preserve the natural processes of the area.
For land and water management in our society, this is the ultimate task. To do our task, we figuratively had to put on two different hats. The first hat was that of Ian McHarg, a landscape architect, ecologist and planner, while the second hat was that of community leaders who want to increase their tax base. The McHargian hat would help us first identify areas that are environmentally hazardous or limiting, such as steep slopes, ravines, prime agricultural soils based on the Soils Survey Book, wooded areas and wetlands. McHarg recognizes that humans have a responsibility to acknowledge the limitations of these environments. Rather than conquer them, we should preserve them.
So we mapped out these areas in our parcel and then decided where we shouldn't build and where we should build to accommodate growth—which brings in the second hat. The hat of the developer was more difficult to wear. It required us to sacrifice a small amount of farmland to accommodate enough housing units at higher densities to satisfy the development needs of an area.
In the end, our future land use map did preserve most of the natural processes which McHarg identifies as limiting or hazardous, and we were able to plan for the construction of around 800 housing units using principles of conservation design and emphasizing high-density residential zoning.
This project certainly challenged us in ways that applied course terms and concepts to a real world example. It forced us to envision ourselves as working professionals striving to create the best development possible. A powerful lesson could to be taken away from this type of exercise; in the face of impending suburban development there are ways to accommodate growth, while at the same time sustaining natural processes in an area. There simply must be a mentality which respects nature's limitations and goes about development in a way that generally isn't the accepted social norm.
New Face on Campus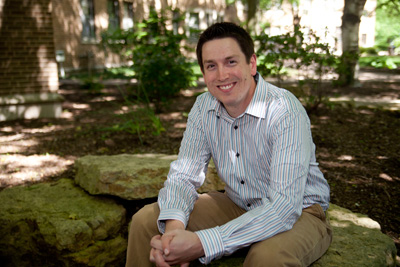 Andrew Petersen, Web Content Developer, Office of Communication and Marketing
Bachelor's of Journalism, University of Missouri–Columbia
Andrew Petersen comes to us from the Quad-City Times, where he maintained the QCVarsity.com website. Any of you with high school athletes at home probably are familiar with this website. His responsibilities primarily involved writing and editing blogs, schedules, videos and stories.
"I love to tell stories the best...whether it's with words, video or audio," Andrew says. "I've never seen myself as just a writer."
In his first week at Augustana, Andrew wrote his first article and is looking forward to telling more Augustana stories in a variety of formats. Students interested in learning how to tell stories with video will work with Andrew in the new Video Bureau, tailored after the college's highly successful Photo Bureau, which cultivates the talents of student photographers.
Working on a college campus is something Andrew now shares with his wife, Catherine. She coordinates the ACCESS program at Scott Community College, which is designed to help high school special education students obtain vocational and employability skills.
Since working with students during the day isn't enough for these two, Andrew and Catherine lead the youth group—sixth graders though high school seniors—at Trinity Episcopal Cathedral in Davenport. Andrew also hopes to be matched with a Rock Island boy through Big Brothers and Big Sisters in the fall.
"I want to provide an outlet for a boy to remove himself from everything else that's going on in his life and enjoy himself," Andrew says. "My past experience has been with the Lunch Buddy program, eating with a student once every couple weeks and then playing games, going to recess, whatever."
In return, Andrew says he gets "the selfish satisfaction of volunteerism and knowing that I made a small difference for someone who has already had a much harder life than I could imagine."
Andrew's office is in Web Services & New Media, second floor of Founders, if you'd like to stop by and say hello.
In the Works
Director of Human Resources Laura Ford authors a perennial series of information and wisdom pertaining to being an employee at Augustana College. Featured in this issue: Jaeke Award winners!
Administration—Tammy McAuliffe
A key player in upgrading and maintaining the infrastructure that allows Augustana to work, programmer/analyst Tammy McAuliffe joined the IT department in September 2007. While her position might offer plenty of opportunity for emotional disarray, Tammy always is confident and upbeat—she never seems harried or annoyed. One colleague called her the "go-to person" in her area, because when she is presented with a technological problem, Tammy will "think a moment, and then come up with a solution. She is attentive, quick, and her solutions work." And yet, another colleague pointed out, Tammy doesn't want special praise. She will always say, "it is just my job."
Dining Services—Sue Ann Keller
Sue Ann Keller started in Augustana's dining services as a catering worker in March 2007, and just five months later was promoted to full-time cook. Sue Ann is well known for her attention to detail, whether it's a certain recipe or a student's diet. She often runs the global station in the dining hall, because of her close interaction with and true concern for students—whom she often knows not only by name but also by major and interests. In summing up her abilities, one colleague said Sue Ann just naturally combines "efficiency, friendliness and focused communication while performing her duties."
Facilities Services—Dale Dusenberry
Dale Dusenberry began his work as an Augustana public safety officer in January 2005. As supervisor for the second shift, he is responsible for the officers and support officers, dispatchers and many student workers during that shift. Dale often volunteers for extra shifts and additional duties, such as attending school to become a much-needed CPR instructor for the college, or helping to host the Public Safety Forum to reach out to students about safety on campus. Dale has a genuine understanding of students and concern for their welfare and life choices. As one colleague said, "he can be tough when needed, but the students know he cares, and they respect him."
Faculty—Pamela Druger
Pamela Druger began teaching in the accounting department at Augustana in September of 1987 and was promoted to full professor in 2003. A colleague referred to her leadership during the recent semester remodel conversations as "invaluable," as Pam "stepped up to the plate when few people were volunteering." Even when her workload is tremendous, Pam is known to be "unfailingly professional and approachable," with great consideration and respect for students and colleagues alike. Speaking on behalf of many, Pam's colleague wants her to know "that her efforts are appreciated, and that we realize the work she has done on behalf of the college."
Office Personnel—Jean Sottos
In May 1995, Jean Sottos started as a part-time secretary for the department of sociology, anthropology and social welfare in Old Main. Today she also supports women's and gender studies, and helped ensure the smooth transition of her academic programs to Evald Hall. Jean has been described as the "crucial cog" that keeps these programs rolling—gracefully handling the "complicated logistical issues across multiple departments and constituencies" in Evald. A dedicated worker who handles the many, many visitors and meetings in the Great Hall, as well as frequent classroom bookings throughout the day and evening, Jean has been called a true "ambassador for the college." She also is an encouraging mentor for student workers, who often seek her opinions.
From the Cabinet
President of the College Steve Bahls
Ublaakun? No, Qieibisilgitkikpie!
Before Jane and I depart for a place where the above Inuinnaqtun and Inupiaq dialects of the Inuit language are spoken, I wanted to share a word of thanks. The year that's drawing to a close has been remarkable for many reasons, such as the successful conclusion of the largest and most important fundraising campaign in college history, and the expectations-shattering start of intercollegiate lacrosse at Augustana.
Yes, it's true that our students and faculty in the past year have attained new heights of scholarly achievement. And yes, our choir brought its tradition of excellence to new audiences in Germany while its fellow music ensembles and Augustana theatre students continued to raise the bar for performance excellence here on campus and across the country. And yes, the college's finances are as solid, and I can even report that our much-loved public radio station regained its footing, and WVIK is once again thriving.
But of equal if not greater importance has been the growth I have witnessed at Augustana in community. As we continue to move toward the kinds of best practices that are already beginning to separate those liberal arts colleges that will excel in the future from those that will languish, I have begun to suspect during the course of this year that we are about to turn a corner. I hear it in my conversations with colleagues from the faculty, staff and administration. Though it's expressed in different ways, this budding confidence in our community gives me great hope for our success in crafting and implementing a new strategic plan.
So: Ublaakun (Good-bye)? No. Rather, Qieibisilgitkikpie (See you soon). And until then, thanks (Quana)!
Augustana Family News
Mari Alvarado, daughter of Marla Alvarado Neuerburg (communication & marketing) and Brian Neuerburg, will graduate this weekend from Fordham University-Rose Hill, N.Y., with a bachelor's in urban studies and information systems. Mari plans to live and work in New York City.
Kathy and Lendol Calder's (history) daughter Abigail Calder will graduate from Rock Island High School in June. She will attend the University of Southern California Honors College on a Trustees Scholarship.
Lauren Carton, daughter of Chris and Theresa Carton (human resources) will graduate from Valparaiso University, Indiana, on May 20 with a bachelor's in international business and French. Lauren will travel to France in the fall, and then find a job. Theresa also completed her bachelor's degree just last weekend—in business administration, from St. Ambrose University.
Dave Dehnel (pre-law) and his wife Candace Canik have two children graduating this spring. Jerry Dehnel graduated this week from the University of Illinois with a bachelor's degree in history; Allison Dehnel is completing a master's in entomology at the University of Wisconsin-Madison.
Kurt Foley, son of Mickey and Brad Foley (dining services) has received a golf scholarship to attend Black Hawk College in the fall. Kurt will graduate from Alleman High School on May 27.
Oliver Kao, son of Hua-Mei Chang (Chinese) and Dr. Pin Che Kao, will graduate from Bettendorf High School and plans to follow his father's footsteps by pursuing biomedical engineering at the University of Wisconsin-Madison.
Nathan Schroeder, son of Ed and Cindy Schroeder (advancement), will graduate from Alleman High School this May. He plans to attend Saint Louis University in the fall, majoring in biology.
Lisa Slater (career development/CEC) and her husband Todd will see their son Grant Slater on campus here at Augustana in the fall. Grant also is graduating from Alleman High School this month.
Robert Walker, son of Dave and Joanne Walker (registrar's office) also will join us this fall at Augustana, where he will pursue pre-engineering. Robert will graduate from Rockridge High School next weekend.
Seen & Heard
"Avoiding polemic, the author carefully considers multiple perspectives on all assertions of maternal and paternal rights, granting that personal feeling has its place in debates about procreation, while never losing sight of the political, social and economic contexts in which difficult decisions about parenting are made."
— Jane Simonsen, announcing the winner in the long essay category,"Fathers' Rights and Abortion" by Lillian Pickens '14, written for the class Sexual Ethics taught by Laura Hartman.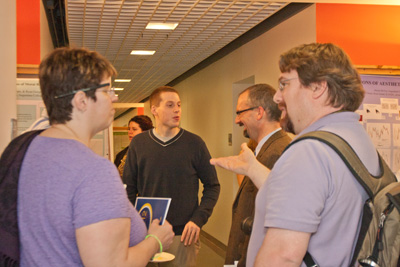 This photo by graduating member of the Augustana Photo Bureau Maren Mathisen captures the essence of last weekend's Celebration of Learning: genial, collegial and collegiate.
Acknowledge is published by the Office of Communication and Marketing at Augustana College in Rock Island, Illinois. Contact Beth Roberts, editor. Photos in this issue were contributed by Marla Alvarado Neuerburg, Drew Barnes '14 and Maren Mathisen '12 of the Augustana Photo Bureau.