April 28, 2012
2012 Season - 1600 relay sixth at Drake Relays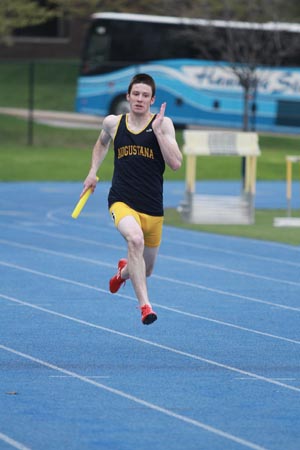 Junior Alex Rindone anchored the 1600 meter relay team to a sixth place finish at the Drake Relays with a time of 3:12.76.
DES MOINES, Iowa - Augustana's 1600 relay team placed sixth in the finals of the Drake Relays on Saturday, April 28 in Des Moines, Iowa. The Vikings, running with a team of junior Greg Patton (Bloomington HS, Bloomington, Ill.), freshman David Voland (Batavia HS, Batavia, Ill.), senior Greg Davis (Carlinville HS, Carlinville, Ill.) and junior Alex Rindone (Marmion Academy, Geneva, Ill.) clocked a time of 3:12.76.
That is just off the school record of 3:12.71 set by the same unit last Saturday at the Meet of Champions.
Wisconsin-Eau Claire won the event in 3:10.75 while Lincoln was second in 3:11.31. North Central took third with a time of 3:11.65 and Wisconsin-LaCrosse ran 3:11.96 in fourth. Wisconsin-Oshkosh took fifth with a clocking of 3:12.65, just ahead of the Vikings. The seventh place finisher was Nebraska-Kearney, which was a ways back in 3:15.03.