April 28, 2012
2011-12 Season - Carthage spoils Senior Day 11-2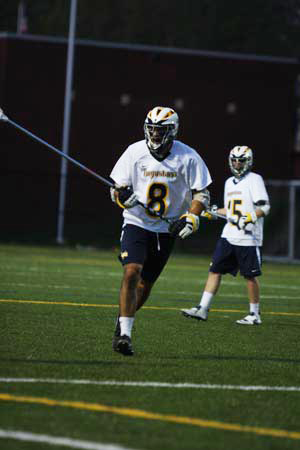 Augustana's lone senior, Marcus Maier, was recognized on Senior Day before the Vikings' game with Carthage at Thorson-Lucken Field Saturday. Unfortunately, the Vikings dropped an 11-2 decision to the Red Men to finish their first season of varsity lacrosse with an 8-6 record.
ROCK ISLAND, Ill.-Carthage scored twice in a matter of seconds to take a 3-1 lead late in the second quarter and went on to an 11-2 win over Augustana at Thorson-Lucken Field. The loss spoiled the Vikings' Senior Day, which honored the team's lone senior, Marcus Maier (Loyola Academy, Wilmette, Ill.). Coach Kyle Hart's squad finished its first season of varsity lacrosse with an 8-6 record.
The game was tied at 1-1 with five minutes left in the second quarter when Peter Slefinger scored off a Keegan Bowman assist to give the Red Men a 2-1 advantage. Carthage's Dylan Delaney controlled the ensuing faceoff, one of his 11 on the day, and bolted through the Augustana defense before passing to Seth Molek. Molek made a move and scored to make it 3-1 Red Men.
Slefinger scored another goal, with an assist from Danny Morse, at the 2:05 mark to give Carthage a 4-1 lead at intermission.
Bowman added three more goals in the second half as the visitors cruised to the nine-goal victory.
Bowman's first goal of the day gave Carthage a 1-0 lead less than a minute in. Augustana's Tim Fennelly (Littleton HS, Centennial, Colo.) answered with 2:26 left in the first quarter off a Vincent Giglierano (Archbishop Mitty HS, San Jose, Cal.) assist. The Vikings' other goal came from Jesse Nagelberg (St. Charles East HS, St. Charles, Ill.), his 39th of the season, with just 2:13 left in the game.