April 27, 2012
2011-12 Season - Wilkinson's 88 leads Vikings to win at Monmouth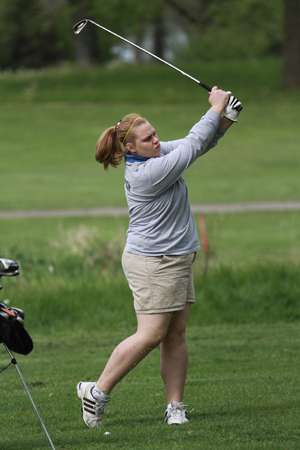 Junior Morgan Wilkinson was the individual medalist and Augustana won the team title Friday at the Fighting Scots Invitational in Monmouth, Illinois.
MONMOUTH, Ill.-Junior Morgan Wilkinson (Westmont HS, Westmont, Ill.) won individual medalist honors with a round of 88 Friday at the Fighting Scots Invitational. Her effort helped Augustana take the team title by 11 strokes over host Monmouth College in the five-team event.
Wilkinson edged teammate Megan Vandersee (Sterling HS, Sterling, Ill.) by one stroke to win the event. Senior Brittany Carr (Lincoln-Way East HS, Frankfort, Ill.) and sophomore Dean Capitani (Hinsdale Central HS, Hinsdale, Ill.) each shot 94 to tie for fourth. Sophomore Jamie Lawrence's (Moline HS, Moline, Ill.) round of 96 tied her for ninth place.
The Vikings' total of 365 strokes bettered Monmouth's 376 and an Augustana "B" team which shot a collective 424. Knox and Carl Sandburg had individuals competing, but did not field full teams.