April 27, 2012
2011-12 Season - Men's tennis falls at Elmhurst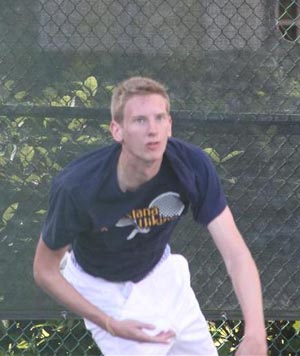 William Palmer teamed with Kevin Bayles to pick up a victory at number three singles as Augustana fell at Elmhurst on Friday, April 27 by a score of 7-2.
ELMHURST, Ill. - Augustana dropped a crucial College Conference of Illinois & Wisconsin match to Elmhurst by a score of 7-2 on Friday, April 27 in Elmhurst, Illinois. The Vikings are now 15-8 overall and 2-2 in CCIW action.
Augustana head coach Jon Miedema was forced to juggle his lineup when freshman Lawrence Palmer (Schiller International, El Prat de Llobregat) suffered a hand injury the day before. Palmer had been the regular at both number two singles and number two doubles.
The Vikings picked up a win at number three doubles when sophomore Kevin Bayles (Homewood-Flossmoor HS, Flossmoor, Ill.) and junior Will Palmer (Schiller International, Leicester, England) defeated Luke Tanaka and Justin Guenther 9-7.
Sophomore Colin Arnold (Sterling HS, Sterling, Ill.) accounted for Augustana's other win when he defeated Tanaka at number four singles by a score of 6-3; 1-6; 6-2.
SINGLES
1 - Alex Harbert (E) beat Adam DeSimone (A) 7-6; 6-2
2 - Will Jung (E) beat Andy Wall (A) 6-3; 6-2
3 - Vincent McPherson (E) beat Jack Cullen (A) 6-2; 4-6; 6-4
4 - Colin Arnold (A) beat Luke Tanaka (E) 6-3; 1-6; 6-2
5 - Kevin Noble (E) beat Kevin Bayles (A) 6-1; 6-4
6 - Justin Guenther (E) beat Grant Wick (A) 7-5; 7-5
DOUBLES
1 - Alex Harbert/Will Jung (E) beat Adam DeSimone/Andy Wall (A) 9-7
2 - Vincent McPherson/Kevin Noble (E) beat Jack Cullen/Colin Arnold (A) 8-3
3 - Kevin Bayles/William Palmer (A) beat Luke Tanaka/Justin Guenther (E) 9-7