April 27, 2012
2012 Season - 1600 relay makes final at Drake Relays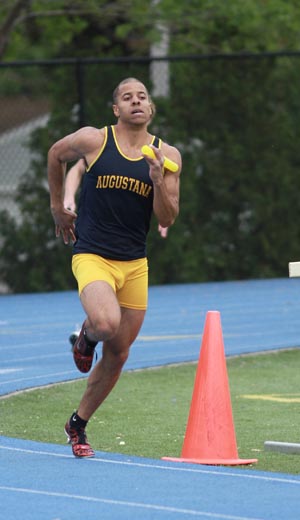 Junior Greg Patton ran a leg on the Vikings 1600 relay team that won its heat and qualified for the finals in the Drake Relays on Friday, April 27 in Des Moines, Iowa.
DES MOINES, Iowa - Augustana's 1600 relay team, fresh off a school record last week, cruised into the finals of the Drake Relays with a heat-winning performance on Friday, April 27 in Des Moines, Iowa. The Viking foursome of junior Greg Patton (Bloomington HS, Bloomington, Ill.), freshman David Voland (Batavia HS, Batavia, Ill.), senior Greg Davis (Carlinville HS, Carlinville, Ill.) and junior Alex Rindone (Marmion Academy, Geneva, Ill.) won the first heat of competition with a time of 3:14.60.
Last week, at the Meet of Champions, that same quartet set a new Augustana school record with a time of 3:12.71 and posted the fastest NCAA Division III time in the nation so far this season. On Friday, Vikings won their heat by nearly two seconds over second place Wayland Baptist, which clocked at time of 3:16.47.
Augustana will head into Saturday's final with the third best time of the meet. Wisconsin-Eau Claire had the fastest time of the day at 3:12.63 while Wisconsin-LaCrosse was second at 3:14.44.
The 1600 relay wasn't the only Augustana team that burned up the track on Friday as the 800 relay team placed fourth with a time of 1:28.07. Sophomore Jay Graffagna (Geneva HS, LaFox, Ill.), junior Ryan Brummet (Riverdale HS, Port Byron, Ill.), junior Floyd Mays (Mooseheart HS, Justice, Ill.) and freshman Keith Cline (Byron HS, Byron, Ill.) made up the team.
The Vikings took 13th in the 4x1600 relay when the team of junior Justin Smith (Fenton HS, Bensenville, Ill.), senior Matt Bowman (Geneva HS, Geneva, Ill.), senior Brad Keating (Cary-Grove HS, Cary, Ill.) and freshman Keegan Buttimer (Riverside-Brookfield HS, Riverside, Ill.) ran 17:26.29. The 400 meter relay team of Mays, Patton, Cline and Rindone ran :42.22 and placed 14th overall.