April 27, 2012
2012 Season - Trotta goes the distance but Vikings fall to IWU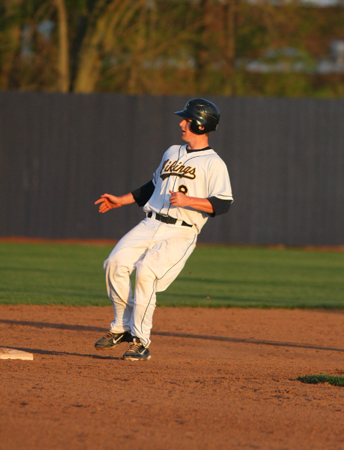 Junior catcher Jim Sandberg had Augustana's only extra base hit, a double, and scored the Vikings' lone run Friday night in a 3-1 loss to Illinois Wesleyan at Swanson Stadium/Brunner Field.
MOLINE, Ill.-Augustana got another complete game from ace Mike Trotta (Notre Dame HS, Chicago, Ill.) Friday, but it wasn't enough to keep the Vikings from falling 3-1 to Illinois Wesleyan at Swanson Stadium/Brunner Field. The loss drops Augustana to 22-12 on the season and 8-8 in the CCIW. The Titans improve to 23-10 overall and remain tied for the league lead at 10-6.
Trotta gave up seven hits and walked none while striking out six, but suffered his first loss of the season. It was his fifth complete game this year. His counterpart for Illinois Wesleyan, Joe Sweeney, recorded the first complete game by a Titan pitcher this season and improved to 6-2 with the win. He gave up just five hits and no walks and the lone Viking run was unearned.
With the game tied 1-1 in the seventh, IWU's Bobby Czarnowski led off with a single just off the glove of Grant Stewart (Sterling HS, Sterling, Ill.) at first. He moved to second on a Mark McDermott sacrifice and to third on a wild pitch. Trotta came up with a huge strikeout of Kevin Sullivan for the second out, but Anthony Lopez spoiled it by lining a single just in front of Mike Barker (Centennial, Colo. Grandview HS, Marina del Rey, Cal.) in left to score Czarnowski and give the Titans a 2-1 lead.
They added an insurance run in the ninth. After Trotta retired the first two batters, Sullivan lined a double that kicked up chalk down the left field line. Lopez then delivered another RBI single, this one to center, and the Titans led 3-1.
Sweeney set the Vikings down in order in the ninth.
IWU jumped in front with a run in the second. Jonathan Erickson led off with a single up the middle and Czarnowski drove an 0-2 offering from Trotta to the gap in right center for a double. Erickson moved to third on the play and scored when McDermott followed with a groundout to Jeremy Juhl (Glenbard East HS, Lombard, Ill.) at short.
Augustana tied it in the third. Jim Sandberg (JK Mullen HS, Littleton, Colo.) led off with a nubber toward third. The Titans' Kevin Callahan fielded it cleanly, but his throw pulled Czarnowski off the bag at first, allowing Sandberg to reach. Kevin Serna then dumped a soft liner into right center and Jacob VanDuyne (Wilmington HS, Wilmington, Ill.) followed with a bunt single to load the bases. Sandberg scored on Juhl's fielder's choice grounder to short.
The hosts threatened in the fifth, but couldn't take the lead. Sandberg led off with a double to the gap in left center. Serna sacrificed him to third and reached himself when Sweeney mishandled his bunt. VanDuyne followed with a chopper to third which Callahan fielded and fired to catcher A.J. Nathan to cut down Sandberg at the plate. Juhl then hit into an inning-ending double play.
The teams complete their key three-game set tomorrow with a doubleheader in Bloomington, Illinois. First pitch is schedule for 1:00 p.m.