April 25, 2012
2011-12 Season - Vikings rout North Central and finish 15-3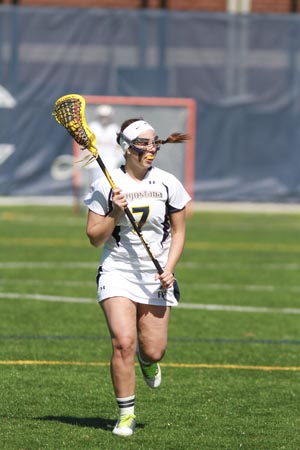 Freshman Christina Letmanski scored five goals on just seven shots, had one assist, eight ground balls and four draw controls to help lead Augustana to a 19-7 win over North Central in the 2012 season finale. Letmanski finished the year with 59 goals for the Vikings, who won their last nine games to end up with a 15-3 record.
NAPERVILLE, Ill. - A first half barrage of goals helped propel Augustana to a 19-7 victory over North Central in the Vikings' final match of the 2012 women's lacrosse season on Wednesday, April 25 in Naperville, Illinois. Head coach Sara Tisdale's team jumped out to a 10-1 lead on the Cardinals en route to winning for the ninth straight time. Augustana ends its first season of varsity lacrosse with a sterling 15-3 overall record.
After North Central scored first on a goal by Danielle Fiala just over a minute into the contest (28:43), the Vikings offense, which leads NCAA Division III in points and goals, got rolling. Freshman Hannah Dickman (Stillwater HS, Stillwater, Minn.) evened the game with a goal at 26:49 off an assist from freshman Hilary Kargl (Sacred Heart Academy, Louisville, Ky.). Dickman gave the Vikings the lead with her second goal of the night at 22:27 and once again it was Kargl on the assist.
Freshman Christina Letmanski (Glenbard West HS, Wheaton, Ill.) scored unassisted at 19:14 and then senior Maribeth Shea (Willows Academy, Chicago, Ill.) tallied at 17:29 with Letmanski collecting the assist. Letmanski scored unassisted at 14:52 and Kargl took a feed from freshman Allie Roehrenbeck (Columbus Academy, Gahanna, Ohio) at 13:24 to make it 6-1. Freshman Kelly Stelzer (Wheaton-Warrenville South HS, Wheaton, Ill.) hit the nets at 13:03 and then Kargl scored at 12:17 and again at 10:43 to push the advantage to 9-1. Letmanski scored at 7:48 with Dickman getting an assist to make it 10-1.
North Central broke the Augustana string with a goal by Rachael Houp at 7:34 but Dickman answered at 5:50 to bump the margin to 11-2. The Cardinals scored the last two goals of the first half and the first of the second half to trim things to 11-5. Kargl scored at 27:10 and Letmanski tallied at 20:50 and 19:02 to move the margin back to nine at 14-5. Kargl would score two more times as would Dickman and Stelzer scored once.
Freshman goalkeeper Sarah Osier (Naperville Central HS, Naperville, Ill.) recorded 11 saves as she upped her personal record to 15-3.
The Vikings held a 39-21 advantage in shots attempts and a 32-21 edge in ground balls. Kargl scored six goals to finish the season with an NCAA-leading 97. Dickman had five goals and ended the year with 51 while Letmanski scored five times and finished with 59.