April 25, 2012
2012 Season - Rehmert homer punctuates sweep of Monmouth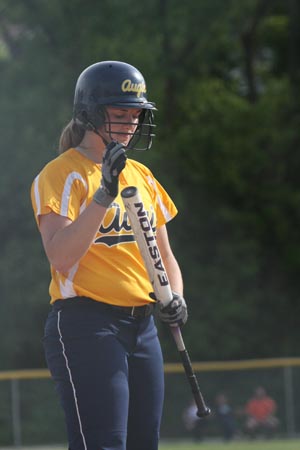 Freshman Christie Wiersema collected four hits, scored three runs and had an RBI on Wednesday, April 25 as Augustana swept Monmouth by scores of 4-1 and 7-5 to move to 24-10 on the season.
ROCK ISLAND, Ill. - Sophomore Jaime Rehmert's (Sterling HS, Sterling, Ill.) home run in the bottom of the 11th inning allowed Augustana to sweep a non-conference double header with Monmouth on Wednesday, April 25. Rehmert's two-run blast gave the Vikings a 7-5 win and that followed a 4-1 win in the opener over the Scots.
Augustana moved to 24-10 with the wins while Monmouth dropped to 14-15. The Vikings got a tremendous pitching performance from sophomore Sarah Hintz (LeRoy HS, LeRoy, Ill.) in the opener as she moved to 14-3 while sophomore Courtney Ledezma (United Township HS, East Moline, Ill.) worked 7 1/3 innings in relief in game two to pick up the victory.
The Vikings will host North Central on Saturday, April 28 and Millikin on April 29 to close out the regular season.
GAME 1 - Augustana 4, Monmouth 1
Hintz scattered seven hits as she went the distance to pick up her 14th victory of the year against just three defeats. She struck out two but did not walk a single batter.
In the bottom of the second inning the Vikings scored to take a 1-0 lead. Freshman Christie Wiersema (Morrison HS, Morrison, Ill.) singled to lead things off and went to second on a sacrifice bunt. She moved to third on a single by freshman Laura Behnke (Wheaton St. Francis HS, Roselle, Ill.) and scored on a wild pitch.
Wiersema led off the fourth with the second of her three hits for the game and she came home on a single by sophomore Randi Applehans (Mountain Vista HS, Highlands Ranch, Colo.) to make it 2-0.
Monmouth scored a run in the top of the fifth to trim the margin to 2-1 but the Vikings put two runs on the board in the sixth and once again it was Wiersema who started things off. She led off with another single and gave way to a pinch runner, senior Abbi Staples (Sterling HS, Sterling, Ill.). Stapled went to second on a wild pitch and scored on a double by sophomore Chaney Tambling (Dwight HS, Dwight, Ill.). Sophomore Kelsey Winter (United Township HS, East Moline, Ill.) pinch ran for Tambling and went to third on a ground out and scored on a sacrifice bunt by Applehans.
Wiersema led the offense with three hits while Applehans collected two.
GAME 2 - AUGUSTANA 7, MONMOUTH 5 (11 innings)
Rehmert launched a two-run home run over the left field fence with one out to end an 11 inning marathon and give the Vikings a sweep by a score of 7-5 over the Scots. The game was tied 5-5 heading into the bottom of the 11th when Augustana coach Kris Kistler called on junior Amanda Johnson (York HS, Elmhurst, Ill.) to pinch hit for Tambling. Johnson responded with a single off Monmouth hurler Skyler Johnson. A sacrifice by Applehans moved Johnson to second with the winning run and then Rehmert hammered her third home run to end the game.
Rehmert's blast made a winner of Ledezma, who actually replaced Rehmert on the mound with two outs in the top of the fourth inning. Ledezma worked 7 1/3 innings and gave up just four hits and three runs. She walked two but struck out seven as she moved to 8-5 on the season. Rehmert allowed two runs on five hits with a strikeout and a walk in her 3 2/3 innings of work.
Monmouth scored a single run off Rehmert in the top of the first but the Vikings answered in the bottom of the frame. With two outs sophomore Krista Watson (Coal City HS, Coal City, Ill.) coaxed a walk off of Johnson, who started and later would pitch in relief and get the loss. She went to second on a double and scored on a double by Wiersema.
The Scots tallied a run in the fourth to go in front 2-1 but Augustana scored twice in the bottom of the inning to go back on top 3-2. A double by senior Jillian Gibbs (Rock Island HS, Rock Island, Ill.) plated Applehans and freshman Jenna Teson (Jacobs HS, Algonquin, Ill.). Applehans was hit by a pitch and Teson had singled.
Monmouth answered with three runs in the top of the fifth to take a 5-3 lead but that was short-lived as the Vikings got two runs in the bottom. Ledezma led off with a single and gave way to Winter as a pinch runner. Wiersema drew a walk and both Winter and Wiersema moved up when Tambling executed a successful sacrifice. Applehans' single plated Winter and Behnke's double brought in Wiersema.
Neither team scored for the next five innings until Rehmert's round-tripper ended the long afternoon/evening.