April 24, 2012
2012 Season - Trotta CCIW's Pitcher of the Week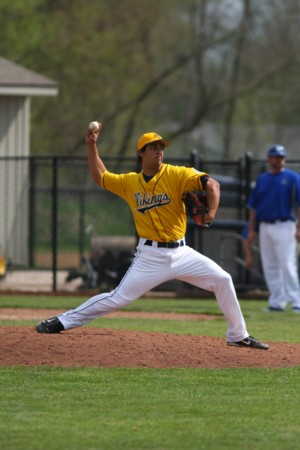 Augustana senior right-hander Mike Trotta has been named the CCIW PItcher of the Week for the second time this season.
NAPERVILLE, Ill.-A four-hit shutout against a hard-hitting Wheaton club last Friday has earned Augustana senior right-hander Mike Trotta (Notre Dame HS, Chicago, Ill.) the College Conference of Illinois & Wisconsin's Picher of the Week Award. It was the second time this season he's won the award.
Facing a Thunder lineup that was producing an average of 7.5 runs per game, Trotta went the distance, allowing just four hits and one walk while fanning four as the Vikings prevailed 1-0. He gave up just one extra base hit, a ninth inning double.
Trotta is the only two-time CCIW Pitcher of the Week so far this season. He won the award on March 6 after a pair of complete game victories in Florida.
Trotta's performance improved his record to 6-0 on the season and lowered his ERA to 1.75. He's been the ace of the Viking starting staff this year. He leads the team in wins, starts (tied with seven), complete games (four), shutouts (two), innings pitched (51 1/3) and strikeouts (33).
The Vikings host a single game with Grinnell on Wednesday, April 25 at 7:00 p.m. and then play a huge three-game set with Illinois Wesleyan this weekend. The Titans visit Swanson/Brunner for a 6:00 p.m. single game on Friday, April 27 and then the teams move to Bloomington, Illinois for a 1:00 p.m. doubleheader on Saturday, April 28.