April 24, 2012
2011-12 Season - Vikings still lead nation in points and scoring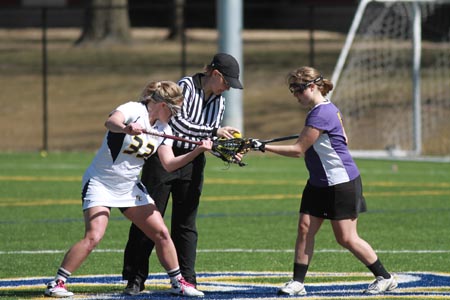 Augustana leads the nation in total points and scoring offense. The Vikings are also 18th in draw controls with an average of 16.06 per game.
ROCK ISLAND, Ill. - A high-powered offense has been the driving force for the Augustana varsity women's lacrosse in its inaugural season. The Vikings lead NCAA Division III in two statistical categories and are second in two others. Head coach Sara Tisdale's team has won eight in a row and is 14-3 overall heading into their final contest.
The Vikings continue to lead NCAA Division III in total points (327 goals and 153 assists) with 480 and in scoring offense at 19.24 goals per game. In addition, freshman Hilary Kargl (Sacred Heart Academy, Louisville, Ky.) still leads the nation in goals scored with 91 and she is also tops in total points with 111 (91 goals and 20 assists). She is third in goals per game with a 5.35 per-game-average and sixth in points per game at 6.53.
Augustana's defense is no slouch either. The Vikings are second in caused turnovers with an average of 13.76 per game while also being ranked 20th in scoring defense with an 8.12 goals against average. The combination of an explosive offense and a stout defense have Augustana ranked second in scoring margin at 11.12 (19.24 goals-for and 8.12 goals-against). The Vikings are also 18th in draw controls with an average of 16.06 per game.
Besides Kargl, several other Augustana players are high in individual statistical categories. Freshman Sarah Osier (Naperville Central HS, Naperville, Ill.) is 19th in goals-against-average at 8.26 with 137 goals allowed in 984 minutes of action. She is also 28th in save percentage at .486.
Freshman Hannah Dickman (Stillwater HS, Stillwater, Minn.) is 32nd in the nation in points with 80 and 19th in assists with 19.
The team will wrap up its season on Thursday, April 25 at North Central in Naperville, Illinois.