April 24, 2012
2011-12 Season - Men's lacrosse ranked second in scoring defense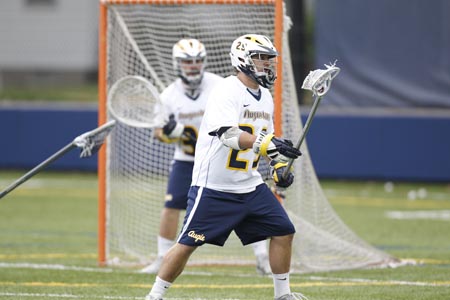 The Vikings currently rank second in NCAA Division III in scoring defense with an average of 4.69 goals allowed per game.
ROCK ISLAND, Ill. - Entering the final game of the inaugural season, Augustana's men's varsity lacrosse team continues to make its presence felt in the NCAA Division III statistics. The Vikings currently boast the second best scoring defense in the nation. The team also claims spots in the top 25 for three individual statistical categories.
Defense has been the name of the game all season long for first year head coach Kyle Hart's team. Through 13 games the Vikings have given up just 61 goals for an average of 4.69 per game. They have pitched two shutouts this year and eight times they have held opponents to five goals or less. The Vikings are narrowly behind the national leader in scoring defense. Cabrini leads the nation with a 4.62 goals against average.
Freshman goalkeeper Cody Burgdorff (Peat to Peak HS, Lafayette, Colo.) is eighth individually in goals-against-average with an average of 5.80. He has given up 59 goals in 610 minutes. Burgdorff is also 16th in save percentage with a mark of .624. He has 98 saves for the season.
Freshman attacker Jesse Nagelberg (St. Charles East HS, St. Charles, Ill.) leads the team in scoring with 38 goals and he is 24th in goals-per-game with a 2.85 average.
As a team the Vikings are just outside the top 25 in scoring margin. Augustana is averaging 9.31 goals per game and giving up 4.69 for a scoring margin of 4.62.
Augustana will conclude its season against Carthage on Saturday, April 28 at Thorson-Lucken Field in Rock Island, Illinois.