April 24, 2012
2012 Season - Voland wins "Runner of the Week" in CCIW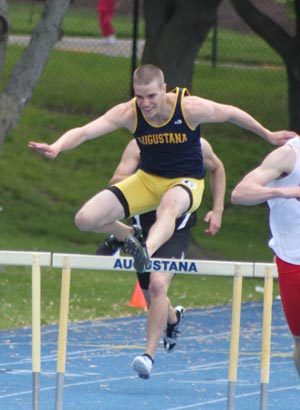 Freshman David Voland has been named the "Runner of the Week" in the CCIW after he won the 400 intermediate hurdles and handled the second leg on the Vikings' winning 1600 relay at the Meet of Champions on Saturday, April 21.
ROCK ISLAND, Ill. - Augustana freshman David Voland (Batavia HS, Batavia, Ill.) has been selected as the "Runner of the Week" in men's track & field in the College Conference of Illinois of Wisconsin. Voland scorched the track as he helped lead the Vikings to an impressive team championship in the Meet of Champions on Saturday, April 21 at Paul V. Olsen Track.
He won the 400 hurdles in a time of :51.96, the second fastest time in Augustana history, just off Ted McMillan's 2008 school record of :51.21. His clocking is also the second fastest in NCAA Division III so far this season.
He also added a scintillating second leg of :47.9 on the 1600 relay team that won with a school record of 3:12.71. The quartet of senior Greg Davis (Carlinville HS, Carlinville, Ill.), Voland, junior Greg Patton (Bloomington HS, Bloomington, Ill.) and junior Alex Rindone (Marmion Academy, Geneva, Ill.) also has the fastest team in the nation this spring at the NCAA Division III level. They broke the old Augustana record previously held by Nate Hurt, Scott Tumilty, Mark Zemke and Rob Lee in 1996.
For good measure Voland also placed seventh in the 110 high hurdles with a time of :15.56.
Augustana won the Meet of Champions with 240 points to outdistance a nine-team field that included two other teams ranked in the top 10 of the latest NCAA Division III poll. The Vikings are currently ranked fifth in the outdoor dual meet power ranking.