April 22, 2012
2011-12 Season - Channon's 10th leads men's golf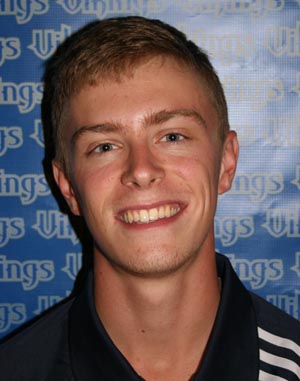 Freshman Max Channon was the top Augustana finisher at the Blueboy Invitational at Piper Glen Golf Club in Jacksonville, Illinois on Saturday, April 21 and Sunday, April 22. He tied for 10th place in the individual standings.
JACKSONVILLE, Ill. - Freshman Max Channon (Wheaton-Warrenville South HS, Wheaton, Ill.) finished in a tie for 10th place to lead Augustana at the Blueboy Invitational on Saturday, April 21 and Sunday, April 22. The two day event was played at Piper Glen Golf Club in Jacksonville, Illinois on a par-72, 6,612 yard course.
The Vikings placed eighth in the 12-team event, recording a two-day total of 651. They shot a 319 on the first day and had a 332 on the second day. Monmouth won the meet with a total of 607 (306+301) while Millikin was second at 614 (316+298) and Illinois Central took third at 618 (302+316). Parkland took fourth with a score of 626 (315+311) and North Park was fifth with a 631 (320+311). Millikin's B team finished sixth at 640 (325+315) and Benedictine-Springfield was seventh with a score of 644 (327+317). Finishing behind Augustana were North Central (662), Illinois College (696), St. Louis University (728) and Kaskaskia (748).
Channon came home with a two day total of 155 (80 + 75) and tied with Sean Boston of North Park for 10th place. Wes Hillen of Millikin was the individual victor with a score of 148 with a 78 on the first day and a 70 on the second day.
Freshman Grant Murphy (Dunlap HS, Peoria, Ill.) was tied for first individually after the first day with a 73 before shooting an 87 on the second day and finishing with a 160 and a tie for 23rd place. Freshman Jake Groselak (Lemont HS, Lemont, Ill.) shot identical rounds of 82 for a final total of 164. Junior Curtis Lubic (Kaneland HS, Sugar Grove, Ill.) had a 172 (84 + 88) and freshman Josh Kukla (Zion-Benton HS, Winthrop Harbor, Ill.) recorded a 181 (89+92).
Augustana will host the first two rounds of the College Conference of Illinois & Wisconsin championship on Friday, April 27 and Saturday, April 28 at Oakwood Country Club in Coal Valley, Illinois.