April 2012
Fans are fans, no matter how far
In 2008, Corey Fineran (son of Bill Fineran in facilities) started Ivy Envy, a blog for Cubs fans. It quickly attracted more writers, including Kurt Tucker (communication and marketing), who posted comments on the blog so often that Corey asked him to commit as a writer. In 2009 they added a podcast.
"We're just regular fans talking about the Cubs," said Kurt. "When we're together, we talk about the Cubs, so why not record it and let other fans listen and be part of the conversation? We are not experts," he added, "just fans with opinions."
Make that "strong opinions"—the first part of the blog's tagline. The rest is "marginal analysis."
Nonetheless, every year Ivy Envy makes improvements and draws more fans. Earlier this month, the very source of their focus and adoration sent Corey a tweet. The Cubs wanted to speak with him.
It all started when Corey noticed a rule for Cubs giveaways on Twitter that stated anyone living beyond 100 miles of Wrigley Field was not eligible. Since Ivy Envy takes seriously the task of representing regional Cubs fans, Corey quickly tweeted about the rule's unfairness and wrote a blog post criticizing the policy.
"I said it was disrespectful to Cubs fans around the Midwest that have no problem buying tickets for day trips to Chicago," Corey said. Naturally, he and Kurt assumed they were in trouble. As Kurt noted, "Major League Baseball is notorious for cracking down on anything they perceive to be a copyright infringement."
But when Corey spoke with the Cubs rep, the gentleman assured him this was a Major League Baseball (MLB) policy, and not a Cubs policy. Furthermore, MLB was changing the policy after receiving a proposal from the Cubs asking them to eliminate the distance restriction.
"He told me, 'I wanted to let you know that we read Ivy Envy on a daily basis, and we feel that you represent Cubs fans outside the city of Chicago well.... I want you to know that the rule has been changed, and you can see the new wording on our official giveaway rules,'" Corey remembered.
"As a Cubs fan and blogger, it was very refreshing to hear from the Cubs and see them act on this issue so quickly," he said.
Problem solved, the bloggers are planning their annual bus trip to Wrigley Field. This year it's for the Cubs vs. the Rockies on August 25, and tickets are still available. Contact Corey@ivyenvy.com.
Bright forecast for this year's academy
The Augustana Summer Academy (ASA) began three years ago with four classes. This summer, the academy offers 16 courses ranging from one day to one week, all including at least one night on campus.
These mini-courses offer high school students the chance to get to know Augustana professors, our campus and our passion for learning—at the same time gaining hands-on experience in a field they are considering. Optional activities for the evening include everything from "Capture the Flag" to Whitey's runs to the Backwater Gamblers show.
Program coordinator Bonnie Jessee's favorite ASA memory is from 2010. "The students who participated in the speech pathology program really enjoyed it and formed strong relationships. When the program ended, many of them were planning on coming to Augustana and being roommates," she said. "That is why we offer Augustana Summer Academy—to build relationships with students and among students."
The CSD department has seen increased enrollment in the past few years. Meghan Cooley, director of recruitment communications, explained, "In a time when students are making their wish list of top colleges earlier and earlier, ASA provides high school students an in-depth experience highlighting the best of what we do: small class sizes, exceptional faculty, hands-on learning, and all in a city of 400,000 people. We hope this can serve as a pipeline of bright, engaged students directly to Augustana's first year class," she said.
Classes offered this summer are:
The Amazing Brain: A Neuroscience Experience (wait list, only)
Cooking and Chemistry
CSI: Augustana
Dance: Music Made Visible
Engineering Physics: Rarified Exploration
Flute Boot Camp
Human Cadaver Gross Anatomy
Life, Death, Medicine and Law: The Big Issues
The Mid-River Poetry Workshop
The Mid-River Writing Workshop
Orthopedic Sports Medicine: A Sports Injury Case Study
Beginning Pipe Organ for Pianists
A Return to Hogwarts
Safari: A Journey Through Africa
Shakespeare: Mysterious But Not Anonymous
A Day in the Life of a Speech-Language Pathologist
If you know anyone who might be interested, learn more at www.augustana.edu/summeracademy.
Field Notes
Dr. Mariano Magalhães (political science) wrote Field Notes about "living on Brazil time." Earlier this year, he helped lead the college's first international study trip to Brazil.
Four faculty and 39 students arrived in Rio de Janeiro at the scheduled time early in the morning on January 11. The students were a bit tired from the overnight flight, but ready for the day's itinerary: bus to hotel, check in to rooms, get settled, find a place to eat, visit the Corcovado and then tour the Indigenous Museum to finish our first day in Brazil. Just as planned.
Oh wait, this is Brazil, where very little goes as planned.
To begin, our guide suggests we go first to the museum because the hotel won't be ready for us to check in until the afternoon. OK, that's too bad but this makes sense. So we tell the students there's a slight change of plans. There are a few frowns, but mostly excitement. We board the buses and take off for our first activity in Brazil.
Halfway to the museum, our guide tells me the weather is looking good right now, so we should switch things up and go first to the Corcovado, the statue of Jesus Christ that sits atop a small mountain overlooking the city. I say: sure, let's do it. The students are good sports about the new game plan, so off we go.
By the time we have taken in the majesty of the statue and awesome view of the city, it is well past lunchtime. So, suggests our guide, let's do lunch before checking into the hotel. Yeah, the faculty agree, great idea. To this proposed alteration in the itinerary the students are, like, YES! So we drive to a "kilo" restaurant for the students' first taste of authentic Brazilian food. Well fed, we decide it's a good idea to check into the hotel instead of going straight to the museum. By the time all are settled into their rooms, it's around 3 p.m. and the students are worn out.
At this point the faculty consult with our guide about possibly changing the museum visit to another day. His response? No problem. This is Brazil. We'll just schedule it for a different day. Thus, our adventure in the laid-back, relaxed culture of Brazilians had begun.
We did visit the Indigenous Museum the following Sunday, and even though we came unannounced in a big group, the director of the museum showed typical Brazilian flexibility and let us tour the facility, nonetheless. Over the next six weeks our scheduled plans changed multiple times, in ways big and small. Little by little our students became more willing to accept and some even embraced this Brazilian way of living.
New Face on Campus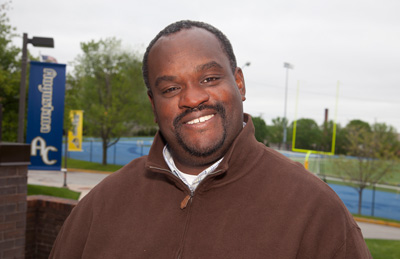 Anthony Scott
Football, Offensive Line Coach
B.S., broadcasting, Georgia Southern University
While his parents kept encouraging him to be a teacher, Anthony Scott had dreams of becoming an ESPN broadcaster. Once he realized that wasn't going to happen, he worked in insurance briefly before becoming certified as a high school history teacher. "I thought I'd be a high school teacher my whole life, and that was fine, but then I got this strange phone call," he said.
The caller was a buddy of his who happened to be the football coach at Brevard College in Brevard, N.C. "We were talking about some of my students, and then it turned into an impromptu interview for the offensive line coach job at Brevard," Anthony remembered.
And the rest is history, as they say. Anthony has coached at Brevard, Lenoir-Rhyne University and St. Augustine's College, all located in North Carolina. During his four seasons as the offensive line coach at St. Augustine's, the Falcons led the Central Intercollegiate Athletic Association in rushing offense in 2010 and finished second in 2008.
Although he still loves to read about world history and keep up on current events, Anthony is passionate about coaching football. "When you're working with students, with tomorrow's future, you feel like you're contributing," he said. "I feel like I'm doing something right."
Living in the Midwest is new for Anthony, and he says he appreciates the pace of life and the hardworking attitude and friendliness of the people he's met. But most of all, he's thrilled to be part of the Vikings.
"This is an opportune time for Augustana football, with the commitment to the new facility and the great blend of academics and athletics," he said. "It was what drew me to this position."
As an offensive lineman on Georgia Southern's 1999 and 2000 NCAA Division I-AA national championship teams, Anthony would love to be part of another championship team. Could it be the Vikings in time?
"Coach Cushman is a great head coach," Anthony said. "He's set the vision, and now all we've got to do is to execute that vision."
From the Cabinet
College Chaplain Richard Priggie with a tribute to Sister Marilyn Ring
Every Heartways retreat, sponsored by Campus Ministries and held three times a year, we begin on Friday evening by showing a movie, a different one each time. We spend some time discussing the movie's implications the next day; it sets the theme for the retreat.
The movie for this spring term Heartways was Chocolat, directed by Lasse Hallström—a gem of a meditation upon what it means to be religious, or spiritual, or what it means to be alive, period. Juliette Binoche plays Vianne, a vivacious single mother who moves into a small French town at the beginning of Lent and proceeds to open a chocolaterie, a chocolate shop, of all things. The mayor of the town, who serves also as its self-appointed moral guardian, sees this as a deliberate affront to Lenten self-denial and begins a campaign to boycott and thereby drive out the shop.
The mayor has also intimidated the new, young priest in town into allowing him to mark up his sermons every Saturday, so that the priest's preaching will be properly dogmatic and moralistic. On Holy Saturday, however, the mayor has a breakdown of sorts (you'll have to see the movie to enjoy the deliciously ironic nature of the crisis) and is unable to go over the sermon.
Set free, the priest stands in the pulpit on Easter Day, addressing the whole town, and says, "I want to talk about Christ's humanity, I mean how he lived his life on earth: his kindness, his tolerance. We must measure our goodness not by what we don't do, what we deny ourselves, what we resist or whom we exclude. Instead, we should measure ourselves by what we embrace, what we create and whom we include."
Often these days it seems that religious faith is caricatured as what we don't do, what we deny ourselves, what we resist, or whom we exclude. Fortunately for us at Augustana, we have had a living example in our midst of a faith that is creative and inclusive, in the person of Sister Marilyn Ring.
As we give up Sister Marilyn to retirement at the end of this school year, we give thanks for her kindness, her goodness and her wide embrace. We pray everything good for her in the years to come.
Seen & Heard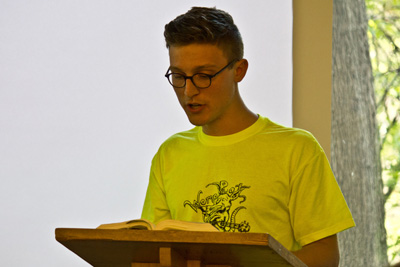 Pied Beauty
By Gerard Manley Hopkins, 1877
Read by Jaron Gaier '12
Glory be to God for dappled things—
For skies of couple-colour as a brinded cow;
For rose-moles all in stipple upon trout that swim;
Fresh-firecoal chestnut-falls; finches' wings;
Landscape plotted and pieced-fold, fallow, and plough;
And all trades, their gear and tackle and trim.
All things counter, original, spare, strange;
Whatever is fickle, freckled (who knows how?)
With swift, slow; sweet, sour; adazzle, dim;
He fathers-forth whose beauty is past change:
Praise him.
At "Morris & Co." in the Tredway Library on April 11, students and others read work by Victorian-era poets in honor of National Poetry Month and the library's exhibition on William Morris.
Acknowledge is published by the Office of Communication and Marketing at Augustana College in Rock Island, Illinois. Contact Beth Roberts, editor. Photos in this issue were contributed by Mariano Magalhães and Marla Alvarado Neuerburg, as well as Drew Barnes '14 and Megan Cocker '13 of the Augustana Photo Bureau.