April 22, 2012
2012 Season - Vikings drop two tight ones at Carthage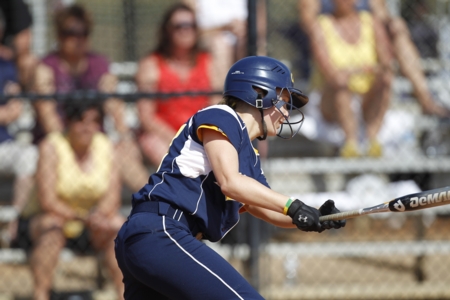 Freshman outfielder Laura Behnke had five hits on the day, including three doubles, but it wasn't enough to prevent the Vikings from being swept 2-1 and 6-5 at Carthage.
KENOSHA, Wis.-Despite a 5-for-6 afternoon by freshman outfielder Laura Behnke (Wheaton St. Francis HS, Roselle, Ill.)--which included three doubles--Augustana dropped a pair of one-run decisions to Carthage Sunday. The Vikings fall to 22-10 on the season and 5-5 in the CCIW. The Lady Reds improve to 30-4 overall and 10-2 in the conference.
GAME ONE: CARTHAGE 2, AUGUSTANA 1
With Sarah Hintz (LeRoy HS, LeRoy, Ill.) in the circle for Augustana and Krystina Leazer for Carthage, game one was scoreless for three and a half innings.
Hintz stranded a pair of Lady Reds in the first and the Vikings had runners in scoring position in the second and third innings, but neither team could get on the board until Carthage put up two runs in the bottom of the fourth. After fanning the first hitter, Hintz gave up an infield hit and a walk. Olivia Scott delivered a two-run double to right to give the Lady Reds the lead.
In the top of the fifth, Behnke led off with a double to left and moved all the way to third on Randi Applehans' (Mountain Vista HS, Highlands Ranch, Colo.) sacrifice bunt. However, Leazer induced a shallow fly to center and a groundout to short to end the threat. Augustana also failed to take advantage of a Jillian Gibbs (Rock Island HS, Rocks Island, Ill.) leadoff single in the sixth.
Chaney Tambling (Dwight HS, Dwight, Ill.) drew a walk to start the seventh. Behnke followed with a double to center with pinch-runner Kelsey Winter (United Township HS, East Moline, Ill.) moving to third. Applehans scored Winter and moved Behnke to third with a groundout to second, but Leazer got pinch-hitter Amanda Johnson (York HS, Elmhurst, Ill.) to line to short and Gibbs to line to center to end the game.
Hintz allowed seven hits and two runs in six innings, walking two and fanning five. She suffered just her third loss of the season in 16 decisions. Behnke and Jenna Teson (Jacobs HS, Algonquin, Ill.) each had two hits for Augustana. Leazer scattered seven Viking hits to get her 20th win against just two losses.
GAME TWO: CARTHAGE 6, AUGUSTANA 5
The Vikings jumped out in front 3-0 in game two, but couldn't hang on as Carthage broke a 5-5 tie with a run in the top of the seventh to get the sweep.
Augustana, the home team in the nightcap, struck for three runs in the bottom of the first. Teson and Gibbs started the frame with back-to-back singles. One out later, Viking pitcher Courtney Ledezma (United Township HS, East Moline, Ill.) helped herself with a two-run double to left. Carthage starter Alyssa Schrader retired the next batter, but Tambling singled to left and Applehans reached on an error, allowing Ledezma to score the third run.
The Lady Reds started the third with three straight singles. It looked like Ledezma would escape the jam when she retired the next two batters, but Abby Hanson tied the game with a bases-clearing double to center.
Hanson would be the last batter on either team to reach base until the Carthage fifth, when Katie Morman led off with a home run to left field. Ledezma got the next two Lady Reds, but Schrader made it 5-3 with another solo shot to left that brought Jamie Rehmert (Sterling HS, Sterling, Ill.) in to pitch.
Augustana bounced right back to tie it in the bottom of the inning. Behnke led off with her third double of the day, prompting a return to the circle for game one winner Leazer. Teson drew a walk and Gibbs singled to left to load the bases. Krista Watson (Coal City HS, Coal City, Ill.) drove in a run with an infield hit and the Vikings got the tying run one out later when Teson scampered home on a Jaclyn Wrona (Glenbard South HS, Wheaton, Ill.) foul out to first.
The teams went to the seventh tied. Morman drew a one-out walk. With two out, Vicki Pyan singled to right and moved to second on the throw to third which failed to cut down pinch-runner Becky Cronk. The Vikings walked Schrader to load the bases and Cronk scored the go-ahead run on an infield hit by Hanson. Ledezma got a one-out single to center in the bottom of the frame, but Leazer retired the final two batters to get her second win of the day.
Behnke went 3-for-3 in game two, while Ledezma was 2-for-4 with two RBI. Gibbs went 2-for-4 as well. Rehmert took the loss in her first decision this season.
Next up for the Vikings is a non-conference doubleheader against Monmouth on Wednesday, April 25. First pitch is scheduled for 4:00 p.m.