April 21, 2012
2011-12 Season - Concordia edges Vikings 8-6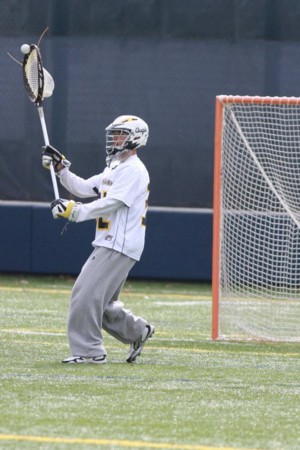 Augustana goalkeeper Cody Burgdorff recorded 10 saves, including four in a scoreless fourth quarter, but the Vikings still fell 8-6 to Concordia in Mequon, Wisconsin Saturday.
MEQUON, Wis.-Concordia scored three times in the first two minutes of the second half to break a 4-4 halftime tie and went on to an 8-6 win over Augustana Saturday. Both teams are now 8-5 this season.
Concordia's Derek Brueske scored less than a minute in off an assist from Kyle Burrell to give the hosts the lead. Dahms got his first goal of the game ten minutes later to make it 2-0. That score came with the Falcons a man up and Justin Krause was credited with the assist.
Freshman Colin Haley (St. Charles East HS, St. Charles, Ill.) got the Vikings on the board with an unassisted goal with 1:32 to play in the first quarter.
Brueske and Sam Wladyka sandwiched Concordia goals around one from Augustana's Doug Barrie (Lake Forest HS, Lake Forest, Ill.), his 14th of the year, and it was 4-2 Concordia with eight minutes left in the half. Vincent Giglierano (Archbishop Mitty HS, San Jose, Cal.) scored with 6:42 left and Haley added his 13th goal of the season with just 25 seconds left to send the teams to halftime tied 4-4.
Wladyka, Dahms and Brueske all scored in the first two minutes of the second half and the Vikings would be playing catch-up the rest of the way. Jesse Nagelberg (St. Charles East HS, St. Charles, Ill.) scored his team-leading 38th goal of the season and Tim Fennelly (Centennial HS, Littleton, Colo.) added his 17th to make it 7-6 with 3:31 left in the third. Brueske answered with his third of the day two minutes later and the Falcons led 8-6 after three.
Keeper Cody Burgdorff (Peak to Peak HS, Lafayette, Colo.) kept the Vikings within striking distance with four fourth-quarter saves, but Augustana managed just one shot on goal in the final period and Concordia came away with the 8-6 win. Burgdorff had a total of 10 saves in the game as did this counterpart for the Falcons, Zack Davis.
The team stats reflected the closeness of the game. Augustana had a 35-32 edge in shots and 30-29 in ground balls. The Vikings won nine of 17 faceoffs as well, but Concordia was 4-for-5 with a man advantage, while the visitors were just 1-for-4.
The Vikings wrap up their first season of varsity competition on Saturday, April 28, when they host Carthage at Thorson-Lucken Field. Game time is scheduled for 1:00 p.m.