April 20, 2012
2012 Season - Vikings place fourth in Augustana Invitational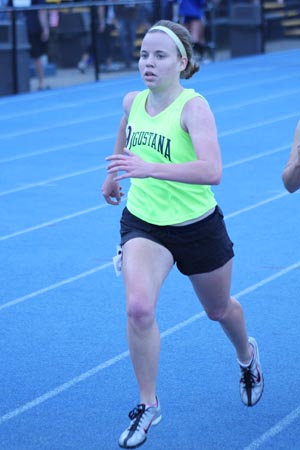 Freshman Lizzie Lundine finished third in the 10,000 with a time of 40:01.93 to help the Vikings take fourth in the Augustana Invitational on Friday, April 20.
ROCK ISLAND, Ill. - Facing a field that included a total of four teams ranked in the top 35 in NCAA Division III, Augustana finished fourth in the nine-team Augustana Invitational on Friday, April 20. On a brisk evening, the Vikings of veteran head coach Fred Whiteside scored 99 points at Paul V. Olsen Track.
Monmouth, which was not ranked in the latest NCAA Division III dual meet power rankings, won the event with 180.5 points. North Central, the number two team in the nation, finished second with 154 points while 10th ranked Wisconsin-Whitewater was third with 122. Augustana, ranked 15th, held down the fourth spot with 99 points and Loras was fifth with 89.5. Carthage took sixth with 85 and 31st rated Wisconsin-Platteville placed seventh with 72.50. Luther (67) and St. Ambrose (62.5) rounded out the field.
Augustana won two events on the night. Sophomore Kierra Smith (Creston HS, Creston, Iowa) placed first in the 400 hurdles in 1:04.21 and the 3200 relay team won with a time of 10:03.60. Smith also finished fourth in the 100 hurdles in :15.69.
Junior Sarahbeth Jones (Warren Township HS, Wadsworth, Ill.) ran the seventh fastest 1500 in school history when she placed second with a time of 4:40.45. Freshman Lizzie Lundine (Willowbrook HS, Villa Park, Ill.) grabbed third in the 10,000 in 40:01.93. Sophomore Taelar Hillyer (Rock Island Alleman HS, Bettendorf, Iowa) cleared 11' 0 ¼" to take third in the pole vault.
Sophomore Liana Beauchamp (Genoa-Kingston HS, Kingston, Ill.) was fourth in the hammer throw with a toss of 147' 10" and senior Catherine Foreman (St. Joseph-Ogden HS, St. Joseph, Ill.) took fourth in the javelin with a throw of 101' 11".
Junior Jordan Mauerman (Albany HS, Albany, Wis.) was fifth in the javelin at 100' 11". Freshman Astin Moravek (Riverside-Brookfield HS, Riverside, Ill.) had a mark of 33' 10 ¾" to take fifth in the triple jump. Freshman Jessica Bacon (Rock Island HS, Rock Island, Ill.) finished fifth in the 800 with a time of 2:21.04. The 1600 relay was fifth in 4:08.48.
Junior Samantha Bazely (Rock Island Alleman HS, Coal Valley, Ill.) finished seventh in both the triple jump (33' 7 ¼") and the long jump (16' 1"). Senior Sarah Johnson (Grayslake North HS, Lake Villa, Ill.) took seventh in the 3000 steeplechase with a time of 12:02.23 while sophomore Amanda Pease (United Township HS, East Moline, Ill.) was eighth in 12:14.75. Junior Annie Heifner (Oregon HS, Oregon, Wis.) finished eighth in the 1500 in 4:56.54 and the 400 relay was eighth in :53.07.