April 20, 2012
2011-12 Season - Natalie Runge named Augustana's MVP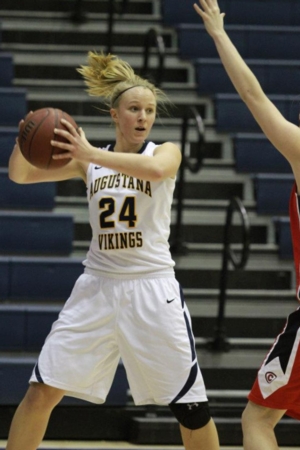 Senior forward Natalie Runge, who led Augustana in scoring and rebounding this season, has been named the team's 2011-12 Most Valuable Player.
ROCK ISLAND, Ill. - New Augustana head basketball coach Mark Beinborn has announced the award winners for this year's squad and senior forward Natalie Runge (St. Dominic HS, O'Fallon, Mo.) is the Vikings' 2011-12 Most Valuable Player. Sophomore Molly Etheridge (Normal Community HS, Bloomington, Ill.) won the team's Defensive Award and seniors Kristina Howard (Cherokee Trail HS, Aurora, Colo.) and Whitney Miller (Clinton HS, Clinton, Iowa) were named Windex and Hustle Award winners, respectively.
The 5' 10" Runge was Augustana's leading scorer and rebounder this season with averages of 12.6 points and 5.0 rebounds per game. She shot .466 from the field and .806 from the free throw line and added 26 assists, 17 steals and a team-best three blocked shots. She finished her career ninth on Augustana's all-time scoring list with 965 points and just outside the school's top ten in career field goal percentage (.470) and rebounds (491). Her free throw percentage of .806 this season is fifth best in school history.
Etheridge, a 5' 5" guard, was the Vikings' second-leading scorer at 11.1 points per game. She was also second in three-point field goals (25), assists (62) and steals (26) and shot .800 from the free throw line.
Howard, a 5' 10" forward, tied Etheridge for second on the team in rebounding with an average of 4.5 per game. She also averaged 4.6 points in 16.0 minutes per contest.
Miller led the team in assists (72) and steals (36) and her .803 mark from the free throw line is the seventh best single-season mark in Viking history. The 5' 6" point guard averaged 5.4 points and 4.3 rebounds per game.
Other award winners included sophomore forward Chaney Tambling (Dwight HS, Dwight, Ill.), who was named winner of the Viking Award and senior Abbi Staples (Sterling HS, Sterling, Ill.) and sophomore Jessica Baids (West Chicago HS, Carol Stream, Ill.), who shared junior varsity Most Valuable Player honors. The 5' 8" Tambling averaged 4.7 points and 3.5 rebounds and converted free throws at an .880 rate this season.
2011-12 AUGUSTANA WOMEN'S BASKETBALL LETTER WINNERS
| | | | | |
| --- | --- | --- | --- | --- |
| NAME | POS | HT | YR | HOMETOWN/HIGH SCHOOL |
| Jessica Baids** | F | 5'9 | So | Carol Stream, Ill./West Chicago |
| Molly Etheridge** | G | 5'5 | So | Bloomington, Ill./Normal Community |
| Amy Hicks* | G | 5'7 | So | Rockford, Ill./Christian |
| Lauren Hoffman* | G | 5'9 | Jr | Winfield, Ill./Wheaton North |
| Kristina Howard**** | F | 5'10 | Sr | Aurora, Col./Cherokee Trail |
| Whitney Miller** | PG | 5'6 | Sr | Clinton, Iowa/HS |
| Gianna Pecora*** | G | 5'5 | Jr | Darien, Ill./Downers Grove South |
| Elizabeth Phillips**** | G/F | 5'10 | Sr | Lake Villa, Ill./Grayslake North |
| Natalie Runge**** | F | 5'10 | Sr | O'Fallon, Missouri./St. Dominic |
| Allison Scaggs*** | G | 5'9 | Sr | Petersburg, Ill./Porta |
| Brianna Skeens**** | F | 5'10 | Sr | Libertyville, Ill./Vernon Hills |
| Abbigale Staples*** | G | 5'5 | Sr | Sterling, Ill./HS |
| Chaney Tambling** | F | 5'8 | So | Dwight, Ill./Township |