April 19, 2012
2011-12 Season - Vikings win Augustana Invitational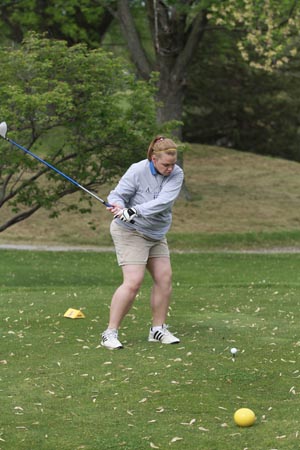 Junior Morgan Wilkinson tees off during the Augustana Invitational. Wilkinson and the Vikings battled rain and cold to come away with a two stroke team victory in the event at Emeis Golf Course in Davenport, Iowa.
DAVENPORT, Iowa - Augustana stuffed five players in the top 10 spots and came away with a victory in the Augustana Invitational on Thursday, April 19 at Emeis Golf Course in Davenport, Iowa. The Vikings shot 347 to best Wisconsin-Platteville's runner-up total of 349 by two strokes.
Behind Augustana and Wisconsin-Platteville, Wheaton was third with 370 and the Augustana junior varsity took fourth with 385. Judson was fifth (409), Dubuque took sixth (412) and St. Ambrose was seventh (418).
Junior Morgan Wilkinson (Westmont HS, Westmont, Ill.) was the top finisher for Augustana as she tied for second place with an 84. She shot 41 on the front nine and finished with a 43. Kelsey Lieving of Wisconsin-Platteville won the event with an 81. Wilkinson tied with Mia Savard of Knox, Alex Tyler of Wheaton and freshman Marilyn Stone (Libertyville HS, Libertyville, Ill.) of the Augustana JV. Stone was consistent with a 42 on the front nine and 42 on the back.
Junior Megan Vandersee (Sterling HS, Sterling, Ill.) was the next finisher that scored for Augustana as Stone's 84 was not counted with the varsity. Vandersee had an 85 and was sixth as she went out in 44 and came back with a 41. Sophomore Dena Capitani (Hinsdale Central HS, Hinsdale, Ill.) and sophomore Jamie Lawrence (Moline HS, Moline, Ill.) each tied for ninth with identical scores of 89. Both shot 47 on the front and 42 on the back.
Senior Brittany Carr (Lincoln-Way East HS, Frankfort, Ill.) recorded a 90 with a 42 on the front and a 48 on the back.
Augustana will be back in action on April 27 at the Monmouth Invitational at Gibson's Woods in Monmouth, Illinois.