April 19, 2012
2012 Season - Augustana ranked 2nd in Great Lakes Region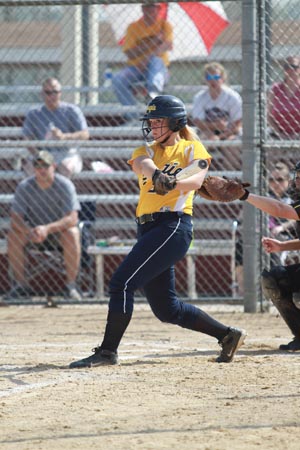 Sophomore third baseman Chaney Tambling, who's hitting .354 with two homers and 21 RBI this season, has helped Augustana to a number two ranking in the NCAA Great Lakes Regional softball rankings.
ROCK ISLAND, Ill. - The NCAA has released its Division III regional softball rankings and coach Kris Kistler's 21-7 Augustana club sits at number two in the Great Lakes Region. The Vikings, who were 19-7 overall and 10-4 in-region through games played Sunday, sport the top-ranked strength of schedule in the 43-team region. They added a doubleheader sweep of Great Lakes Region member Knox on Wednesday, April 18.
Augustana trails only College Conference of Illinois & Wisconsin rival Illinois Wesleyan, 25-4 overall and 21-3 in-region through Sunday's games, in the rankings. The Vikings and Titans split a doubleheader at Carver Field earlier this month. Two other CCIW teams, Carthage and Elmhurst, checked in as well. The Lady Reds (23-3, 20-2) are fourth and the Bluejays (19-8, 9-4) are sixth.
Three Wisconsin Intercollegiate Athletic Conference teams, UW-Eau Claire (third), UW-Whitewater (fifth) and UW-River Falls (seventh) rank in the top seven. The University of Chicago rounds out the top eight.
Augustana's strength of schedule, which is a weighted combination of its opponents' record as well as that of its opposition's opponents, was .635 through Sunday's games, best among the 43 teams in the region.
The Vikings are on the road for back-to-back CCIW twinbills this weekend. They face North Park at 1:00 p.m. on Saturday and Carthage at noon on Sunday.
NCAA Great Lakes Softball Rankings
| | | | |
| --- | --- | --- | --- |
| Rank | Team | In-Region | Overall |
| 1 | Illinois Wesleyan | 21-3 | 25-4 |
| 2 | AUGUSTANA | 10-4 | 19-7 |
| 3 | Wisconsin-Eau Claire | 14-6 | 18-10 |
| 4 | Carthage | 20-2 | 23-3 |
| 5 | Wisconsin-Whitewater | 10-4 | 21-5 |
| 6 | Elmhurst | 9-4 | 19-8 |
| 7 | Wisconsin-River Falls | 17-8 | 19-8 |
| 8 | Chicago | 12-7 | 18-8 |