April 18, 2012
2012 Season - Augustana ranked 15th in NCAA women's track & field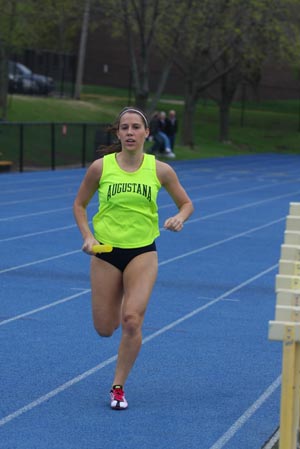 Junior Annie Heifner ran the second leg on Augustana's school-record-setting 4x1600 meter relay team last week at the Norse Relays. Heifner and the Vikings are currently ranked 15th in the latest NCAA Division III outdoor track & field power rankings.
ROCK ISLAND, Illinois – Augustana is currently ranked 15 th in the latest NCAA Division III outdoor track & field rankings in the latest poll released by the United States Track & Field and Cross Country Coaches Association. After checking in at 13 th a week ago, the Vikings of veteran head coach Fred Whiteside slipped two notches to 15 th this week.
Augustana has 159.70 points, up 8.70 from last week's total of 151.00. Ithaca is the number one ranked team in the nation with 184.59 points while North Central is second with 182.09. Wisconsin-Oshkosh is third with 180.61 with M.I.T. in fourth with 175.11 and Nebraska Wesleyan in fifth with 171.39.
The Vikings are coming off a tremendous week where they won the Norse Relays in Decorah, Iowa by 40 points over host Luther on Saturday, April 14. Earlier this year they won the Viking Open on March 24 and were second at the Viking Olympics on March 31. They placed fifth at the Wartburg Select on April 6.
This weekend the Blue & Gold will host the Augustana Invitational on Friday, April 20 at Paul V. Olsen Track.
2012 NCAA DIVISION III OUTDOOR DUAL MEET POWER RANKINGS
Sponsored by the USTFCCA
As of 04/18/2012
POLL #3
| | | | |
| --- | --- | --- | --- |
| RANK | SCHOOL | REGION | POINTS |
| 1. | Ithaca | Atlantic | 184.59 |
| 2. | North Central | Midwest | 182.09 |
| 3. | Wisconsin-Oshkosh | Midwest | 180.61 |
| 4. | Massachusetts Institute of Technology | New England | 175.11 |
| 5. | Nebraska Wesleyan | Central | 171.39 |
| 6. | Wisconsin-Stevens Point | Midwest | 169.35 |
| 7. | Ohio Wesleyan | Great Lakes | 169.28 |
| 8. | California Lutheran | West | 168.39 |
| 9. | Illinois Wesleyan | Midwest | 167.84 |
| 10. | Wisconsin-Whitewater | Midwest | 166.19 |
| | | | |
| | | | |
| | | | |
| | | | |
| 11. | Williams | New England | 163.69 |
| 12. | Emory | South | 163.31 |
| 13. | Claremont McKenna-Harvey Mudd-Scripps | West | 161.69 |
| 14. | Salisbury | Mideast | 161.64 |
| 15. | AUGUSTANA | Midwest | 159.70 |
| | | | |