April 18, 2012
2012 Season - Vikings now fourth in NCAA track & field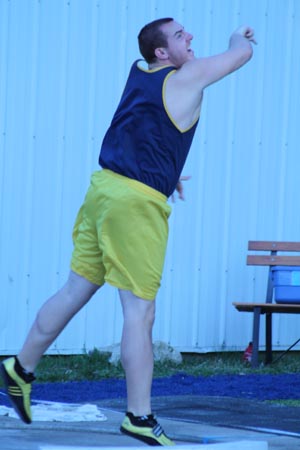 Senior thrower Brian Benning has the best mark for the Vikings in the shot put this year. Augustana is currently ranked fourth in the NCAA Division III outdoor track & field dual meet power rankings.
ROCK ISLAND, Illinois – After an impressive second place finish at the Lee Calhoun Invitational on Saturday, April 14, Augustana remains in the top five in the NCAA Division III dual meet power rankings. The Vikings slipped one notch from third to fourth but raised their point total in the poll from 196.13 to 198.16.
This poll, conducted by the U.S. Track & Field and Cross Country Coaches Association, quantifies the depth of each team. The team's total score is the sum of all points earned in each event. Two individual athletes are scored per event, as well as one relay team. The points are based on the best marks of an event in the current season, with the faster times and farther distances worth more.
Whitworth is currently the number one ranked team in the nation with 212.77 points while College Conference of Illinois and Wisconsin (CCIW) rival North Central College is second with 208.76. Bates is third with 198.78 while Augustana is right behind in fourth with 198.16. The fifth spot is currently held by Wabash.
The Vikings are off to a quick start in the 2012 outdoor season. They placed second in the Viking Open on March 24 and then won the Viking Olympics on March 30 by a wide margin. They were fourth at the Wartburg Select on April 6 before finishing second last week at the Lee Calhoun Invitational.
Augustana will host the Meet of Champions on Saturday, April 21 at Paul V. Olsen Track.
2012 NCAA DIVISION III OUTDOOR DUAL MEET POWER RANKINGS
Sponsored by the USTFCCA
As of 04/18/2012
POLL #3
| | | | |
| --- | --- | --- | --- |
| RANK | SCHOOL | REGION | POINTS |
| 1. | Whitworth | West | 212.77 |
| 2. | North Central | Midwest | 208.76 |
| 3. | Bates | New England | 198.78 |
| 4. | Augustana | Midwest | 198.16 |
| 5. | Wabash | Great Lakes | 198.16 |
| 6. | Wisconsin-Stout | Midwest | 198.09 |
| 7. | Wisconsin-LaCrosse | Midwest | 196.86 |
| 8. | Tufts | New England | 195.41 |
| 9. | Wisconsin-Platteville | Midwest | 195.31 |
| 10. | Wisconsin-Whitewater | Midwest | 191.72 |