April 18, 2012
2011-12 Season - Kim Sawyer "Player of the Week" in the CCIW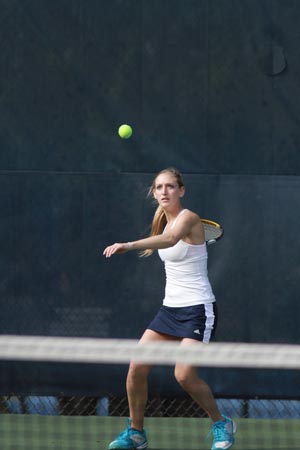 Sophomore Kim Sawyer has been named the "Player of the Week" in the College Conference of Illinois & Wisconsin for the second time this season. She now has a 25-6 record in singles and has helped the Vikings to a 13-10 team mark.
ROCK ISLAND, Ill. - Augustana sophomore Kim Sawyer (Batavia HS, Batavia, Ill.) has been named the "Player of the Week" in the College Conference of Illinois & Wisconsin for women's tennis. Sawyer's honor came for the week ending April 15 and it is the second time this season that she has won the award.
Sawyer won four matches for the Vikings on Sunday, April 15 as they split a pair of dual meets. Augustana beat Monmouth 9-0 and lost to Wartburg 6-3 but Sawyer was perfect on the day. Playing at number one singles she beat Claire Evans of Wartburg 6-3; 6-2 and handled Ashley Reynoso of Monmouth 6-0; 6-0.
In doubles she teamed with junior Meghan Wethington (Geneseo HS, Geneseo, Ill.) to pick up an 8-2 win over Wartburg and an 8-0 victory against Monmouth.
Sawyer also won a pair of matches on Tuesday, April 17 as Augustana crushed Dubuque 9-0 to move its record to 13-10 overall. The Vikings have won eight of their last 11 matches with two left on the regular season schedule.
Sawyer is now 25-6 on the year in singles and she is just four victories away from tying her school record for single season wins. She recorded 29 last year and now has 54 for her career. The 25 victories this season ranks her tied for fifth on the school's all-time list and the 54 career wins puts her just outside the top 10 list.
Sawyer and Wethington are 10-13 at number one doubles and Sawyer is also 2-2 while playing with senior Brittany Reece (Neuqua Valley HS, Naperville, Ill.).
In two seasons she has compiled an overall record (singles and doubles combined) of 87-37. She is 54-13 in singles play and 33-24 in doubles. She won the CCIW "Player of the Week" award back on September 14 of 2011 as well.
A two-time first team all conference performer in the CCIW, she is the daughter of Chuck and Debbie Sawyer of Batavia, Illinois.