April 17, 2012
2011-12 Season - Win over Dubuque moves record to 13-10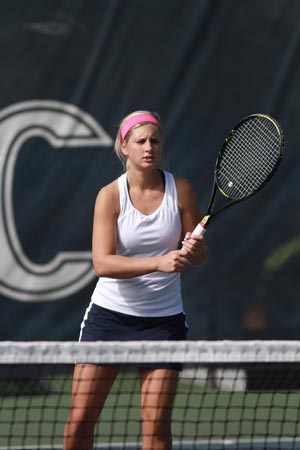 Junior Krista Panko won at singles and doubles as Augustana defeated Dubuque 9-0 on Tuesday, April 17. The Vikings have won eight of their last 11 matches and are 13-10 overall.
ROCK ISLAND, Ill. - Augustana cruised to a 9-0 win over Dubuque in non-conference women's tennis action on Tuesday, April 17 at the Lower Campus Courts. The Vikings have now won eight of their last 11 matches and are currently 13-10 overall with two regular season contests left.
Sophomore Kim Sawyer (Batavia HS, Batavia, Ill.) was impressive at number one singles, defeating Nicole Schmaltz 6-0; 6-0. Sawyer is now 25-6 on the year in singles and she is just four victories away from tying her school record for single season wins. She recorded 29 last year and now has 54 for her career. The 25 victories this season ranks her tied for fifth on the school's all-time list and the 54 career wins puts her just outside the top 10 list.
Sawyer also combined with senior Brittany Reece (Neuqua Valley HS, Naperville, Ill.) to win at number one doubles over Schmaltzer and Ashley Schlueter 8-4. Reece picked up a 6-3; 6-0 victory at number two singles against Lauren Clausen.
Junior Krista Panko (Geneva HS, Geneva, Ill.) beat Schlueter at number three singles 6-2; 6-1 and teamed with freshman Miranda Pence (Oswego HS, Oswego, Ill.) to beat Stephanie LoCasto and Janine Wegner 8-3 at number two doubles. Pence beat Aoi Karino at number five singles 6-3; 6-1.
Junior Meghan Wethington (Geneseo HS, Geneseo, Ill.) had the toughest singles match of the night for the Vikings as she beat LoCasto 7-6; 6-5 at number four. Sophomore Emily Kaczmarek (Glenbard South HS, Lombard, Ill.) picked up a 6-0; 6-0 win over Heather Watson at number six singles. Kaczmarek then teamed with sophomore Caitee Margenthaler (Moline HS, Moline, Ill.) to beat Clausen and Watson 8-2 at number three doubles.
The Vikings will wrap up the regular season on April 29 with a double dual against Loras (9:00 a.m.) and Beloit (12:00 noon in Dubuque, Iowa.
SINGLES
1 - Kim Sawyer (A) beat Nichole Schmaltz (D) 6-0; 6-0
2 - Brittany Reece (A) beat Lauren Clausen (D) 6-3; 6-0
3 - Krista Panko (A) beat Ashley Schlueter (D) 6-2; 6-1
4 - Meghan Wethington (A) beat Stephanie LoCasto (D) 7-6; 7-5
5 - Miranda Pence (A) beat Aoi Karino (D) 6-3; 6-1
6 - Emily Kaczmarek (A) beat Heather Watson (D) 6-0; 6-0
DOUBLES
1 - Kim Sawyer/Brittany Reece (A) beat Nichole Schmaltz/Ashley Schlueter (D) 8-4
2 - Krista Panko/Miranda Pence (A) beat Stephanie LoCastro/Janine Wegner (D) 8-3
3 - Caitee Margenthaler/Emily Kaczmarek (A) beat Lauren Clausen/Heather Watson (D) 8-2