April 17, 2012
2012 Season - Unearned run in ninth sinks Vikings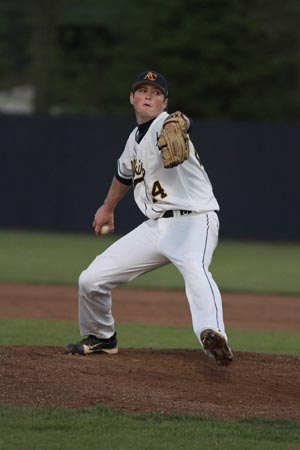 Augustana freshman Kevin Hodgman went 6 1/3 innings Tuesday night, allowing just four hits, one run and two walks while fanning six. He received a no-decision in the Vikings' 2-1 loss at Swanson Stadium/Brunner Field.
MOLINE, Ill.-Loras plated an unearned run in the top of the ninth inning Tuesday to hand Augustana a 2-1 defeat at Swanson Stadium/Brunner Field. The loss drops the Vikings to 18-10 on the year, while the Duhawks improve to 15-13.
With the score tied 1-1 in the ninth, Augustana bullpen ace Josiah Martin (Canton HS, Canton, Ill.), in his second inning of relief, retired the first two Duhawks. Joe Walker then singled to center and moved to second on a pitch in the dirt. Mike Canevello followed with a grounder that slipped under the glove of Viking shortstop Jeremy Juhl (Glenbard East HS, Lombard, Ill.). Walker came around to score the go-ahead run and when Mike Barker's throw from left got away, Canevello ended up on third. Martin got Danny Fahlgren to ground out to end the inning.
Both starting pitchers gave their respective teams solid outings. Loras' Adam Schwoebel went six scoreless innings, allowing just three hits and one walk while fanning three. Augustana's best threat against Schwoebel came in the second inning when Grant Stewart (Sterling HS, Sterling, Ill.) led off with a blast to deep left center. Duhawk center fielder Billy Kass got to the ball, but couldn't make the catch. However, his throw and Mike Pudlow's relay cut down Stewart trying to reach third base. Viking freshman Kevin Hodgman (Neuqua Valley HS, Naperville, Ill.) went 6 1/3 innings, giving up four hits and two walks while striking out six. The only run he was charged with came after he had left the game.
Loras went ahead in the seventh. Travis Olson led off with an infield hit off Hodgman and was sacrificed to second by Pudlow. Junior Rick Erickson (Lake Zurich HS, Hawthorn Woods, Ill.) came on in relief. After getting the second out, Erickson gave up a single to Joe Walker, scoring Olson for a 1-0 Loras lead.
The home team answered right back in the bottom of the frame. Kurt Schmidt (Grayslake Central HS, Grayslake, Ill.) got a one-out single to center off Duhawk reliever Austin Safranski and moved to second on a wild pitch. Joe Cecchi (Romeoville HS, Romeoville, Ill.) followed with a double down the right field line to bring Schmidt around with the tying run.
Martin was the tough luck loser, falling to 3-1 on the year. Safranski got the win and Spencer Radabaugh retired the Vikings in order in the ninth to pick up the save. Cecchi had a pair of hits to pace the Augustana offense.
The Vikings are back in action on Wednesday, April 18, hosting Knox in a 7:00 p.m. contest at Swanson/Brunner.