April 14, 2012
2011-12 Season - Eighth straight win for women's lacrosse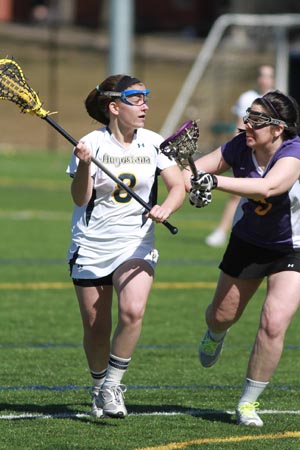 Freshman Kelly Stelzer tied for the team lead in goals scored in the Vikings 21-5 win over Albion on Saturday, April 14. Stelzer scored five times, had two draw controls and one assist as Augustana notched its eighth straight victory.
ALBION, Mich. - Scoring the first five goals of the game, Augustana took control early during a 21-5 victory over Albion on Saturday, April 14 in Albion, Michigan. The Vikings had a 7-1 lead before the game was 10 minutes old and led 15-2 at halftime.
The victory was the eighth in a row for head coach Sara Tisdale's crew, dating back to a 13-10 loss at Carthage on March 17. Augustana is now 14-3 overall with just one match remaining in the first-ever varsity season.
It was freshman Kate Zisser (Kirkwood HS, St. Louis, Mo.) who got the Vikings on the board, scoring with the game just over a minute old (28:50) with an assist from freshman Gina Filippo (Libertyville HS, Libertyville, Ill.). Freshman Hilary Kargl (Sacred Heart Academy, Louisville, Ky.) made it 2-0 a short while later with Zisser getting the assist.
The scoring onslaught continued as Kargl scored at 26:24 and then assisted on the next two goals, one to Zisser at 25:21 and one to Filippo at 23:28. With the score 5-0, Albion tallied on a foal by Ashley Glenn at 22:43 to make it 5-1. Augustana answered with 10 straight goals to boost the advantage to 15-1 with 1:32 left in the first half.
Freshman Allie Roehrenbeck (Columbus Academy, Gahanna, Ohio) got the run started with a goal off a Filippo assist at 21:09. Freshman Christina Letmanski (Glenbard West HS, Wheaton, Ill.) tallied twice, freshman Kelly Stelzer (Wheaton Warrenville South HS, Wheaton, Ill.) had two and Kargl added two more. Also scoring during the 10-0 stretch were freshman Hannah Dickman (Stillwater HS, Stillwater, Minn.) and freshman Taylor Maduro (Neuqua Valley HS, Naperville, Ill.).
Albion got a goal from Mackenzie Novak with 1:14 left before the first half to make it 15-2 at intermission.
In the second half Letmanski scored at 24:46 to make it 16-2 with Filippo getting an assist. Albion countered with goals at 20:37 by Novak and 19:07 by Glenn to trim the lead to 16-4. However, the Vikings scored five straight with Stelzer getting three and Kargl and freshman Bridget Conniff (Benet Academy, Downers Grove, Ill.) each scoring once.
Karl and Stelzer finished the game with five goals each while Letmanski had three. Filippo, Kargl and Dickman all recorded three assists as Augustana had assists on 19 of the 21 goals. The Vikings only took 30 shots in the game but 21 of them found the net.
Freshman Sarah Osier (Naperville Central HS, Naperville, Ill.) picked up the win in goal and had six saves.