April 15, 2012
2011-12 Season - Win over Alma lifts Vikings to 8-4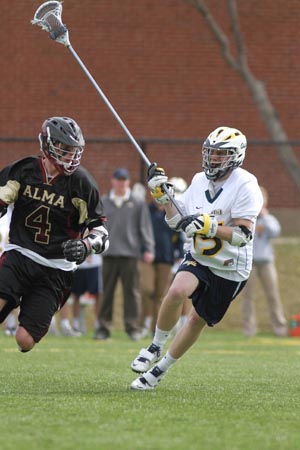 Jeremy Gottardo tied for the team lead in ground balls with 10 as Augustana defeated Alma 10-2 to move to 8-4 on the season. Gottardo also won a face-off and caused two turnovers.
ALMA, Mich. - For the second time this season Augustana defeated Alma in men's lacrosse. The Vikings defeated the Scots 10-2 on Sunday, April 15 in Alma, Michigan to up their record to 8-4 on the season. Earlier this year, on March 11, Augustana beat Alma 15-0 in a match played at Thorson-Lucken Field in Rock Island.
It didn't take the Vikings long to get on the board as freshman J.G. Saunders (The Calverton School, Aquasco, Md.) scored an unassisted goal just 2:35 into the contest. Freshman Jesse Nagelberg (St. Charles East HS, St. Charles, Ill.) then scored two within a minute of one another (8:25 and 7:25) to stake Augustana to a 3-0 lead. Before the first period was finished freshman Tim Fennelly (Littleton HS, Centennial, Colo.) and Nagelberg, again but this time on an assist by Fennelly, would score to make it 5-0.
Nagelberg, who would end the game with six goals, notched the lone score in the second period with an assist going to freshman John Pagliarello (Heritage HS, Littleton, Colo.). That made it 6-0 at halftime.
Alma scored early in the third period (14:35) on a goal by Tyler Bennett to make it 6-1 but the Vikings scored the game's next four to make it 10-1. Freshman Chris Hager (Exeter HS, Newfields, NH) had one at 13:05 of the third and freshman Brad Anderson (Arrowhead HS, Hartland, Wis.) tallied at 11:41.
Nagelberg scored his fifth goal of the game at 11:01 of the third and got his sixth early in the fourth. Alma's final goal came with 5:25 left to play and it was by Cole Mulder.
Augustana dominated the game statistically, holding a 51-14 advantage in shots and a 62-31 edge in ground ball. Fennelly and freshman Jeremy Gottardo (Jacobs HS, Algonquin, Ill.) tied for the team lead in ground balls with 10 each. The Vikings also caused 37 turnovers and won eight of the 14 face-offs.
Freshman Jon Pape (Hoffman Estates HS, Hoffman Estates, Ill.) got the call in goal and he responded with four saves and was given credit with the victory.
Augustana will now travel to Mequon, Wisconsin on April 21 for a 1:00 p.m. game against Concordia.