April 14, 2012
2012 Season - Vikings second at Lee Calhoun Invite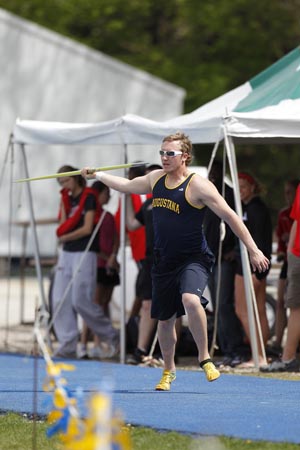 Junior Luke Anderson won the javelin with a 167' 5" throw this weekend to help Augustana to a second-place finish at Western Illinois University's Lee Calhoun Invitational.
MACOMB, Ill.-Juniors Luke Anderson (Lemont HS, Lemont, Ill.) and Greg Patton (Bloomington HS, Bloomington, Ill.) captured individual wins and the Augustana 4x400 relay team, anchored by Patton, also claimed victory as the Vikings finished second at Western Illinois University's 13-team Lee Calhoun Invitational this weekend. Marquette edged out Augustana for the team title by just 2.5 points.
Anderson won the javelin on Friday with a throw of 167' 5". On Saturday, Patton ran a :48.79 to win the 400 and anchored the winning 4x400 team which finished in 3:15.56. Senior Greg Davis (Carlinville HS, Carlinville, Ill.) led off, followed by freshman David Voland (Batavia HS, Batavia, Ill.), junior Jared Spivey (Annawan HS, Annawan, Ill.) and Patton.
Voland (:52.86) and Davis (:55.42) along with freshman Kyle Bennett (Davenport West HS, Davenport, Iowa) (:55.46) scored points in the 400 hurdles, finishing second, sixth and seventh, respectively. In the 110 hurdles it was Davis taking third in :14.79 and Voland eighth with a :15.52.
Three Vikings in addition to Patton scored points in the 400. Junior Dan Doubet (Galesburg HS, Galesburg, Ill.) was third in :49.60 and sophomore Steve Zahrobsky (Downers Grove South HS, Woodridge, Ill.) finished fifth in :50.45, just one one-hundredth of a second ahead of classmate Matthew Dickey (Benet Academy, Downers Grove, Ill.).
Freshman Vincent Dal Pozzo (Neuqua Valley HS, Naperville, Ill.) ran a 1:55.62 to finish third in the 800, while junior Justin Smith (Fenton HS, Bensenville, Ill.) was fifth in 1:56.50 and sophomore Edgar Valle (Kaneland HS, Elburn, Ill.) ninth in 1:57.73.
Senior Phil Christensen (Kaneland HS, Maple Park, Ill.) threw 157' 7" to take third in the discus. Freshman Jeff Padesky (Moline HS, Moline, Ill.) cleared 14' 7¼" for fourth in the pole vault and senior Adam Myers (Dixon HS, Dixon, Ill.) also garnered a fourth-place finish with a 179' 2" heave in the hammer throw. Senior Brian Benning (Winnebago HS, Winnebago, Ill.) and junior Kevin Macek (Sandburg HS, Orland Park, Ill.) also scored in the hammer. Benning threw 168' 3" for sixth place and Macek was eighth with a mark of 164' 1". Macek finished sixth in the shot put with a 46' 3½" throw.
In addition to Luke Anderson, freshman Alec Seymour (Riverton HS, Riverton, Ill.) and junior Mike Anderson (Richmond-Burton HS, Spring Grove, Ill.) scored in the javelin. Seymour had a fifth-place toss of 148' 5" and Mike Anderson threw 143' 7" for seventh place.
In the 200, freshman Keith Cline (Byron HS, Byron, Ill.) took fifth with a clocking of :22.06. Freshman David Devore (Midland HS, Midland, Mich.) finished eighth in :22.39 and also took ninth in the 100, running an :11.11.
Freshmen Nick Gornick (York HS, Elmhurst, Ill.) and Keegan Buttimer (Riverside-Brookfield HS, Riverside, Ill.) finished seventh and ninth, respectively in the 1500, running 4:03.64 and 4:06.73. Another Viking freshman, Josh Prosser (Eureka HS, Goodfield, Ill.), was eight in the high jump, clearing 6' ¾".
In addition to the winning 1600 relay, Augustana got a second-place finish from its sprint medley team, third-place efforts in the 4x200 and 4x800 and a fourth from its 4x100 unit. The sprint medley quartet of Spivey, junior Ryan Brummet (Riverdale HS, Port Byron, Ill.), Doubet and freshman Matt Simo (York HS, Elmhurst, Ill.) ran a 3:36.85. In the 800 relay, freshmen Nowlan Savage (Arapahoe HS, Highlands Ranch, Colo.), Rob McNeil (Bloomington Central Catholic HS, Normal, Ill.) and Antonio Owens (Naperville North HS, Naperville, Ill.) teamed with Dickey, who ran the second leg, to finish in 1:31.49. Junior Dennis O'Flaherty (Sandburg HS, Orland Park, Ill.), Dal Pozzo, Valle and Justin Smith completed the 3200 relay in 7:54.09 and sophomore Jay Graffagna (Geneva HS, LaFox, Ill.), Patton, Cline and junior Floyd Mays (Mooseheart HS, Justice, Ill.) ran a :42.59 in the 400 relay.
Marquette's 160 points were just enough to squeeze by the Vikings' total of 157.5 for the team title. The hosts finished third with 144.5, followed by Lincoln College with 109. Monmouth rounded out the top five with 97.5 points.
Augustana will host the Meet of Champions on Saturday, April 21. The competition begins at noon at Ericson Field and Paul V. Olsen Track.