April 14, 2012
2011-12 Season - Vikings tie for 12th at own invitational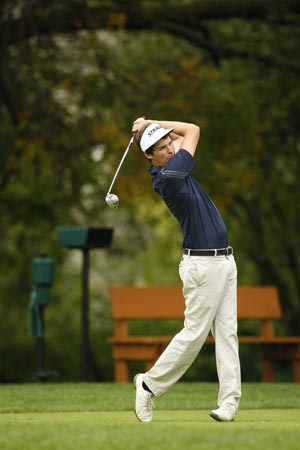 Junior Jeff Paustian led the way for the Vikings at the Augustana Invitational on Friday, April 13 and Saturday, April 14 at Pinnacle Golf Club in Milan, Illinois.
MILAN, Ill. - Showing consistency, Augustana recorded the same score on back-to-back days to place 12th in the Augustana Invitational. The 22-team event was held on Friday, April 13 and Saturday, April 14 at Pinnacle Country Club in Milan, Illinois.
The Vikings shot 321 on Friday and came back with an identical score on Saturday for a total of 642 on the par-71, 6,650 yard course. Augustana tied with Monmouth JV (329+313 = 642) and St. Ambrose JV (324+318 = 642). Illinois Wesleyan won the event with a two-day total of 593 (300+293) while Dubuque was second at 604 (311+293).
Junior Jeff Paustian (Geneva HS, Geneva, Ill.) led the Vikings with a final score of 157. He shot 74 on the first day and had an 83 on the second day to finish in a tie for 35th place.
There was a three-way tie for first individually in the tournament with Shane Smith of Illinois Wesleyan (72+74), Martin Odegard of Dubuque (73+73) and Dan Balgooyen of Ashford (72+74) each recording final totals of 146.
Freshman Jake Groselak (Lemont HS, Lemont, Ill.), who had been Augustana's number one finisher in each of the first two tournaments this spring, was the second man in this contest. He shot 162 with an 83 on the first day before coming back with a 79.
Junior Curtis Lubic (Kaneland HS, Sugar Grove, Ill.) recorded a 162 (81+81) while freshman Max Channon (Wheaton-Warrenville South HS, Wheaton, Ill.) had a 164 (83-81). Freshman Grant Murphy (Dunlap HS, Peoria, Ill.) came home with a 166 (86+80).
First year head coach Paul DelVecchio's team will compete in the Blueboy Invitational on Saturday, April 21 and Sunday, April 22 at Piper Glenn Golf Course in Springfield, Illinois.