April 14, 2012
2011-12 Season - Vikings move to 13-3 with win at ALma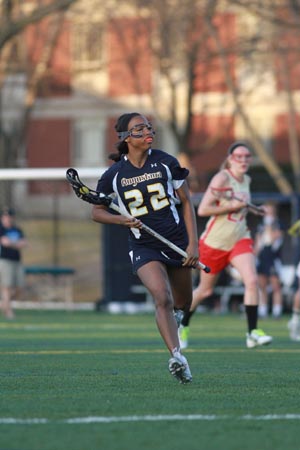 Freshman Taylor Maduro scored a pair of goals as Augustana beat Alma 22-6 to move to 13-3 on the season.
ALMA, Mich.-Augustana jumped all over Alma in the early going en route to a convincing 22-6 victory over the Scots on Saturday, April 14 in Alma, Michigan. The red-hot Vikings have now won seven straight matches dating back to a 13-10 loss at Carthage on March 17. They are now 13-3 on the season.
Augustana scored two goals in the game's first seven minutes and held an 11-4 advantage at halftime. The Vikings first goal came from freshman Hilary Kargl (Sacred Heart Academy, Louisville, Ky.), the nation's scoring leader. She tallied at 23:59 and it was unassisted. Kargl would total five goals on the day and finish with 86 for the season two games left to play.
The second goal came from freshman Hannah Dickman (Stillwater Area HS, Stillwater, Minn.) at 23:46 and that was her 38th of the season. Dickman scored four goals in the game and now has 41 for the year.
Alma cut the lead to 2-1 just :16 after Dickman's goal but Kargl and Dickman each scored to make it 4-1 with 19;39 left in the first half. Alma got a goal from Jessica Page at 18:59 to make it 4-2 but the Vikings ripped off five straight to build the advantage to 9-2 following a goal from freshman Taylor Maduro (Neuqua Valley HS, Naperville, Ill.) at 6:19.
Christina Letmanski (Glenbard West HS, Wheaton, Ill.), Kelly Stelzer (Wheaton Warrenville South HS, Wheaton, Ill.), Kargl and Kelly Molloy (Glenbard West HS, Glen Ellyn, Ill.) all scored in front of Maduro's goal. With the score 9-2, Alma's Mary Hawood tallied at 5:14 to make it 9-3 but Alyse Suffield (Montini Catholic HS, Downers Grove, Ill.) hit the nets at 5:01 to up the ante to 10-3 and Letmanski scored at 3:32 to make it 11-3. With 1:12 left in the first half Tracy Gallihugh scored for the Scots to make it 11-4 at intermission.
Augustana scored the first seven goals of the second half to build a 19-4 advantage with 12:46 left to play.
Kargl had five goals while Dickman and Letmanski scored four times each. Maduro and Molloy had two each.
Augustana dominated the contest statistically with a 44-9 advantage in shots, including a 19-2 edge in the second half. The Vikings also had 39 ground balls compared to just 21 for the host. Allie Roehrenbeck (Columbus Academy, Gahanna, Ohio) was the leader in ground balls with five.
Freshman goalkeeper Sarah Osier (Naperville Central HS, Naperville, Ill.) was only called upon to make one save as she moved to 13-3 on the year.
This was the second time that Augustana and Alma played this season. The Vikings were victorious by a score of 19-4 back on March 10.