April 14, 2012
2012 Season - Vikings split with Elmhurst on Strike Out Breast Cancer Day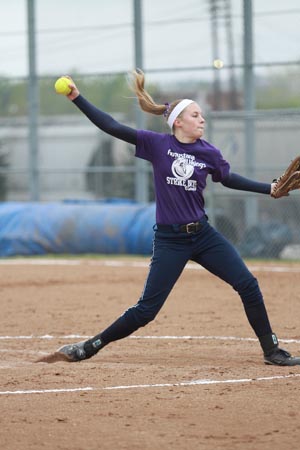 Sarah Hintz (shown here sporting the special purple jerseys the Vikings wore for "Strike Out Breast Cancer Day", tossed a four-hit complete game as Augustana won 4-1 over Elmhurst in the first game. Hintz moved her record to 12-2 on the season.
ROCK ISLAND, Ill.-Augustana picked up a split in a College Conference of Illinois & Wisconsin double header with Elmhurst on Saturday, April 14 at Carver Field. On a day that was dubbed "Breast Cancer Awareness Day", the Vikings won game one by a score of 4-1 and fell 6-0 in the nightcap. Augustana is now 19-7 overall and 4-2 in the CCIW while Elmhurst is 19-7 and 3-1.
GAME 1 - Augustana 4, Elmhurst 1
The Vikings used another sterling pitching performance from sophomore Sarah Hintz (LeRoy HS, LeRoy, Ill.) to pick up a 4-1 win over Elmhurst in the opening game. Hintz went the distance and allowed just four hits and one walk while striking out two. She upped her record to a glossy 12-2 on the season.
Her teammates staked her to a 2-0 lead after the first inning. Senior Dawn Kernich (Mt. Olive HS, Mt. Olive, Ill.) walked with one out and sophomore Krista Watson (Coal City HS, Coal City, Ill.) singled her to second. A ground out moved both runners up a base and then three straight base-on-balls issued to Christy Wiersema (Morrison HS, Morrison, Ill.), Jillian Gibbs (Rock Island HS, Rock Island, Ill.) and Chaney Tambling (Dwight HS, Dwight, Ill.) produced two runs.
In the third Gibbs tripled to right field with two outs and came home on Tambling's single. The last Augustana run came in the bottom of the sixth and it countered Elmhurst's only run of the game, which came in the top of the inning. Freshman Laura Behnke (Wheaton St. Francis HS, Roselle, Ill.) doubled to lead things off and eventually scored on a wild pitch.
Behnke led the Vikings' offense with two hits while Tambling had two RBI.
GAME 2 - Elmhurst 6, Augustana 0
The Vikings were unable to generate much offense against Elmhurst starter Stephanie Iori, who tossed a complete game shutout in a 6-0 Bluejay victory. Iori only allowed four hits as she moved her record to 9-2 on the year.
Elmhurst was ahead 1-0 heading into the bottom of the fourth inning (in CCIW games the teams flip-flop home team designation) when the Bluejays put four runs on the board against Viking starter Courtney Ledezma (United Township HS, East Moline, Ill.). They used three hits, an error and three walks to accumulate the four runs. Elmhurst also added a run in the fifth off Augustana reliever Jaime Rehmert (Sterling HS, Sterling, Ill.).
The Bluejays pounded out 11 hits with Katie Boals getting three and Bella Masini, Meg Griffin and Clare Bukowski each collecting two.