April 13, 2012
2011-12 Season - Balance leads Vikings to 17-4 win at Trine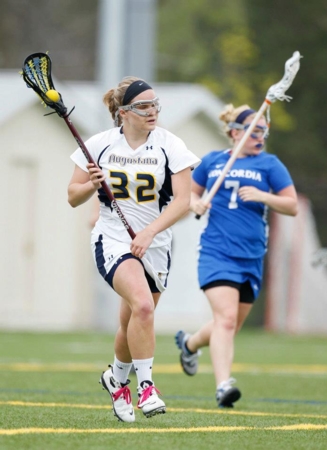 Freshman center Allie Roehrenbeck had two goals, two assists and controlled five draws Friday to help lead Augustana to a 17-4 win at Trine.
ANGOLA, Ind.-Five Augustana players scored multiple goals Friday evening to lead the Vikings to a 17-4 win over Trine at Fred Zollner Stadium. With the victory, Augustana improves to 12-3 on the year, while the Thunder fall to 1-4.
The game was barely a minute old when Viking freshman Hannah Dickman (Stillwater Area HS, Stillwater, Minn.) opened the scoring with her 38th goal of the season. The nation's leading goal scorer, freshman Hilary Kargl (Sacred Heart Academy, Louisville, Ky.), scored twice in the next three minutes to give the visitors a 3-0 advantage. Freshman Allie Roehrenbeck (Columbus Academy, Gahanna, Ohio) assisted on Kargl's first goal.
Trine's Shelly Raupp got the Thunder on the board with an unassisted goal at the 20:30 mark of the first half. It was Raupp's seventh of the season and would be the hosts' only tally in the first half as Augustana took a 9-1 lead into intermission behind a pair of Roehrenbeck goals, two more by Dickman and another by Kargl. Freshman Kelly Stelzer (Wheaton Warrenville South HS, Wheaton, Ill.) provided the Vikings' other first half goal.
Raupp and Emily Shreeve sandwiched Trine goals around a Christina Letmanski (Glenbard West HS, Wheaton, Ill.) score in the first seven and a half minutes of the second half to cut the Augustana lead to 10-3.
However, the Vikings answered with seven consecutive goals over the next 20 minutes to put the contest out of reach. Freshman Gina Filippo (Libertyville HS, Libertyville, Ill.) started the flurry with her sixth of the season. Letmanksi added three more to push her season total to 46 and Kargl added a pair to give her 81 on the year. Stelzer scored her 26th goal as well.
Trine's Emily Canepa tallied her seventh goal with a minute and a half left to account for the final.
Dickman had two assists in the contest to give her a team-high 30 this year. Roehrenbeck also had two helpers, while freshman Nattali Shelton (Wheaton Warrenville South HS, Wheaton, Ill.) and senior Maribeth Shea (Willows Academy, Chicago, Ill.) had one each. Letmanksi collected a game-high nine ground balls.
Freshman goalkeeper Sarah Osier (Naperville Central HS, Naperville, Ill.) stopped six Thunder shots to improve to 12-3 on the year.
Augustana plays a pair of contests in Michigan on Saturday, April 14. The Vikings play at Alma at 11:00 a.m. and then travel to Albion to face the Britons at 5:00 p.m.