April 13, 2012
2011-12 Season - Men's tennis opens CCIW with win over IWU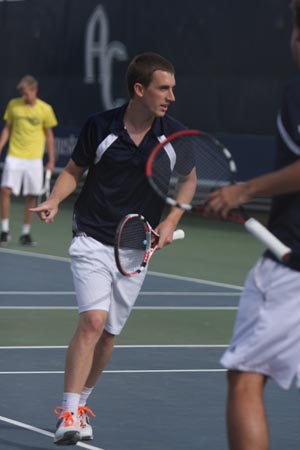 Adam DeSimone picked up wins at number one singles and doubles in Augustana's 7-2 win over Illinois Wesleyan to start the CCIW season. The Vikings are now 12-6 overall. DeSimone has now compiled 131 career victories (singles and doubles combined) as a Viking and he is closing in on Kyle Doyle's school record of 139 wins.
ROCK ISLAND, Ill. - A quick start in doubles helped key Augustana's 7-2 victory over Illinois Wesleyan in the College Conference of Illinois & Wisconsin opener on Thursday, April 12 at the Lower Campus Courts in Rock Island. The Vikings swept the doubles and then won four of six singles en route to moving to 12-6 overall.
Senior Adam DeSimone (Bettendorf HS, Bettendorf, Ill.) helped lead the way on Thursday. He teamed with sophomore Andy Wall (Notre Dame Academy, DePere, Wis.) for a come-from-behind 9-7 win over the Titans' All-American duo of Brian Piotrowski and Brian Sorich. DeSimone and Wall trailed 6-5 before winning four of the last five points en route to upping their record to 13-7. DeSimone also came through in singles, winning at number one over Piotrowski by a score of 7-6; 6-3. He is now 13-10 in singles play.
The number two doubles team of freshman Lawrence (Schiller International, El Prat de Llobregat, Spain) and Will (Schiller International, Leicester, England) Palmer tossed an 8-0 shutout at Nick Kenaga and Michael Christison to move to 9-9 on the year. Sophomore Colin Arnold (Sterling HS, Sterling, Ill.) and junior Jack Cullen (Edgewood HS, Madison, Wis.) pushed their record to a gaudy 12-3 with an 8-3 win over Aaron Guenther and Steven Hayman at number three doubles.
Augustana won at number four, five and six singles to complete the victory. Cullen defeated Guenther 6-2; 6-3 at number four to bump his mark to 7-10. Arnold beat Piotrowski 6-4; 5-7; 10-8 to go to 15-5 at number five and sophomore Kevin Bayles (Homewood-Flossmoor HS, Flossmoor, Ill.) beat Steven Hayman 7-5; 6-0 at number six. Bayles is now 14-5 for the year.
The Vikings, who have won five of the last six, will host North Central and Cornell on Saturday, April 14.
SINGLES
1 - Adam DeSimone (A) beat Brian Piotrowski (IWU) 7-6; 6-3
2 - Brian Sorich (IWU) beat Lawrence Palmer (A) 6-1; 6-4
3 - Nick Kenaga (IWU) beat Andy Wall (A) 3-6; 7-6; 10-7
4 - Jack Cullen (A) beat Aaron Guenther (IWU) 6-2; 6-3
5 - Colin Arnold (A) beat Kevin Piotrowski (IWU) 6-4; 5-7; 10-8
6 - Kevin Bayles (A) beat Steven Hayman (IWU) 7-5; 6-0
DOUBLES
1 - Adam DeSimone/Andy Wall (A) beat Brian Piotrowksi/Brian Sorich (IWU) 9-7
2 - Lawrence Palmer/William Palmer (A) beat Nick Kenaga/Michael Christison (IWU) 8-0
3 - Colin Arnold/Jack Cullen (A) beat Aaron Guenther/Steve Hayman (IWU) 8-3
Augustana is now 12-6 overall and 1-0 in CCIW.