April 12, 2012
2011-12 Season - Voiles update at Portsmouth Invitational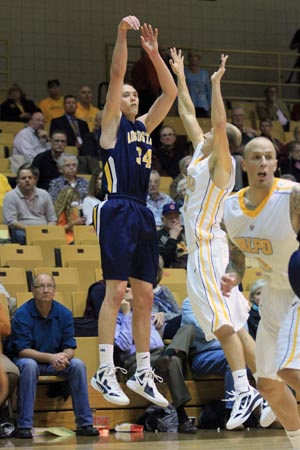 Bryant Voiles is participating in the Portsmouth Invitational Tournament for the Portsmouth Sports Club.
04/14/02
In the championship game of the Portsmouth Invitational Saturday, Bryant Voiles scored six points and pulled down three rebounds in 20 minutes, but it wasn't enough to keep his Portsmouth Sports Club from falling to Roger Brown's by a score of 92-87.
Voiles, the only non-Division I player in the title game, got his second straight start and his 20 minutes were a tournament high for him. He hit a pair of three pointers in six attempts.
Georgetown's Henry Sims had a 19-point, 10-rebound double-double to lead PSC. Roger Brown's was led by 20 points and eight rebounds from Wichita State's Garrett Stutz and 16 points and a dozen boards from Ricardo Ratliffe of Missouri.
Of the experience of playing in front of a throng of professional scouts, Voiles said, "I enjoyed it, and I'm lucky enough to be here. It's nice, especially against such a high level of talent, being at the original spot you play at and being able to see where you fit in." He added about continuing his playing career, "If the opportunity is there, I'd love to keep playing. I'm just going to see what happens and what chances arise for me and make the most of the best opportunity."
NBA director of scouting Ryan Blake said of Voiles, "Here's a kid that I've followed for two years. He's a guy that we think can put the ball on the floor. He can shoot the ball. He's got great size." Blake added, "He's a guy that can surprise some people."
04/13/12
Getting a starting assignment Friday night, Augustana's Bryant Voiles had two points, two rebounds and an assist as his Portsmouth Sports Club team advanced to Saturday's championship game of the Portsmouth Invitational with a 76-74 win over Cherry, Bekaert & Holland.
Voiles hit one of two field goal attempts and did not commit a turnover in his 10 minutes of action.
PSC rebounded from a seven-point halftime deficit to pull out the victory. Temple's Ramone Moore came off the bench to score a game-high 19 points and Georgetown's Henry Sims recorded a double-double with 10 points and 10 rebounds.
Greg Mangano of Yale led four Cherry, Bekaert & Holland players in double figures with 13 points.
On Saturday at 8:00 p.m. EDT, PSC will face the winner of Portsmouth Partnership and Roger Brown's, who face off in Friday's second semifinal. David Michaels of Whitman, the only other Division III player in the tournament, is a member of Portsmouth Partnership.
04/11/12
Augustana's Bryant Voiles saw 19 minutes of action Wednesday night, scoring four points and grabbing three rebounds to help his Portsmouth Sports Club team to an 88-76 win over Norfolk Sports Club at the Portsmouth Invitational Tournament. Voiles and his teammates advance to Friday's semifinals against Cherry, Bekaert & Holland, which also won its first-round game by 12 points.
Voiles' complete line included four points, three rebounds, one assist and one turnover in 19 minutes. He was one of six from the field, but converted both of this free throw attempts.
PSC was led by Tennessee Tech's Kevin Murphy, who scored a game-high 27 points and Norfolk State's Kyle O'Quinn, who scored 18 points and pulled down a game-high 12 rebounds. New Mexico State's Wendell McKines (16 points and 10 rebounds) and Augustus Gilchrist of South Florida (12 and 12) each had a double-double in a losing cause for NSC.
Next up for the Portsmouth Sports Club is a Cherry, Bekaert & Holland club led by Jordan Taylor of Wisconsin. Taylor had 10 points and seven assists in his team's 85-73 win on Wednesday. Long Beach State's Larry Anderson had seven assists also, to go along with a team-high 14 points.
PSC and CBH square off at 7:00 p.m. EDT on Friday, April 13, with the winner advancing to Saturday's 8:00 p.m. EDT championship game.