April 11, 2012
2012 Season - Vikings split with 13th-ranked IWU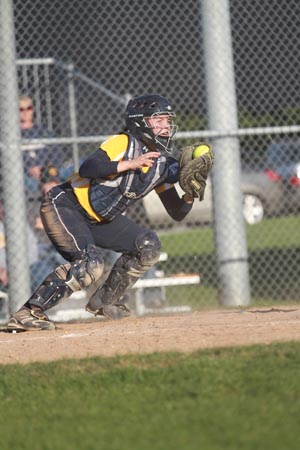 Freshman catcher Jaclyn Wrona had two hits, two runs scored and an RBI in a 10-6 game two win over 13th-ranked Illinois Wesleyan Wednesday night. The Vikings split the doubleheader at Carver Field.
ROCK ISLAND, Ill.-Augustana pounded out 14 hits, including home runs by Krista Watson (Coal City HS, Coal City, Ill.) and Jillian Gibbs (Rock Island HS, Rock Island, Ill.), to defeat 13th-ranked Illinois Wesleyan 10-6 in the nightcap of Wednesday's doubleheader at Carver Field. The Titans won the opener 5-1. The Vikings are now 18-6 on the year and 3-1 in the CCIW, while Illinois Wesleyan is 21-4 overall and 5-1 in the league.
GAME 1 - Illinois Wesleyan 5, Augustana 1
Illinois Wesleyan collected nine hits off Augustana ace Sarah Hintz (LeRoy HS, LeRoy, Ill.) and recorded a 5-1 victory in the first game of a College Conference of Illinois & Wisconsin double header. The Titans scored a pair of runs in the top of the third on a two-run home run off the bat of Keri Leach to break open a scoreless game.
Wesleyan added a single run in the fourth and two more in the sixth as the Titans hung the loss on Hintz, who fell to 11-2 on the year.
Augustana only managed two hits off IWU ace Molly McCready and both of those came in the bottom of the seventh. Freshman Jenna Teson (Jacobs HS, Algonquin, Ill.) led off with a double and with one out she scored the Vikings' lone run on a single off the bat of Krista Watson (Coal City HS, Coal City, Ill.).
GAME 2 - Augustana 10, Illinois Wesleyan 6
Augustana, the visiting team in the nightcap, took a 1-0 lead in the top of the third against Titan starter Alyssa Vorel. Christie Wiersema (Morrison HS, Morrison, Ill.) led off the frame with a single. Abbi Staples (Sterling HS, Sterling, Ill.) ran for her and eventually came around to score the game's first run on Chaney Tambling's (Dwight HS, Dwight, Ill.) sacrifice fly to right. Vorel pitched around a pair of Titan errors to leave the bases full of Vikings and escape without further damage.
Watson led off the third with her first home run of the season to give Augustana a 2-0 lead. After Wiersema walked, Jaclyn Wrona (Glenbard South HS, Wheaton, Ill.) lined an RBI double to left and came around to score on a Tambling single to make it 4-0 after three.
Illinois Wesleyan got to Viking starter Courtney Ledezma (United Township HS, East Moline, Ill.) for a pair of runs in the bottom of the fourth. The big hit in the inning was Kaity Crane's one-out, two-run single.
Augustana rebounded to bust the game open with five runs in the top of the fifth. Wiersema was hit by a pitch to start things and moved to second on a Wrona single. Bria Snyder (Lincoln-Way East HS, Frankfort, Ill.) then drove in a run with one of her three hits in the contest. That knocked Vorel out, as the Titans turned to game one starter McCready to put out the fire. After Tambling fanned, Gibbs lined a bullet back through the middle that McCready got a glove on, but couldn't corral, loading the bases. Everyone then moved up on a wild pitch, with Wrona scoring to make it 6-2. Teson and Laura Behnke (Wheaton St. Francis HS, Roselle, Ill.) drew back to back walks to force in another run and Ledezma helped her own cause with a two-run single to make it 9-2.
Gibbs made it 10-2 with her third home run of the year, a towering shot over the centerfield scoreboard in the Viking sixth.
Crane had a two-run homer in the bottom of the sixth and Illinois Wesleyan added two more in the seventh, but Ledezma finished things off for her fourth consecutive complete game victory. She's now 6-3 on the year.
Watson, with four hits and Snyder, with three, paced the Viking attack. Wrona and Gibbs each had two hits and scored two runs, while Tambling and Ledezma each drove in a pair.
Coach Kris Kistler's Vikings host another CCIW doubleheader on Saturday, April 14 when Elmhurst visits Carver Field at 1:00 p.m.