April 11, 2012
2012 Season - Strong pitching helps in win at North Central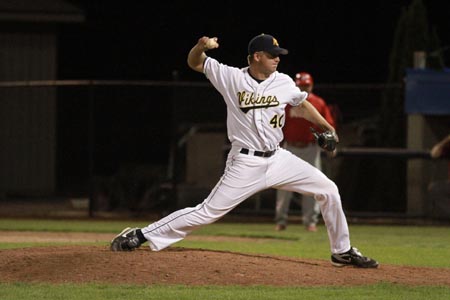 Josiah Martin worked four innings to pick up the victory as Augustana defeated North Central 5-3 on Wednesday, April 11 in Naperville, Illinois.
NAPERVILLE, Ill. - Augustana got effective performances from three pitchers and the result was a 5-3 College Conference of Illinois & Wisconsin victory over North Central on Wednesday, April 11 in Naperville, Illinois. Senior Josiah Martin (Canton HS, Canton, Ill.) picked up the victory by tossing four strong innings in relief but all three Viking hurlers were impressive.
Martin came in at during the fifth inning with Augustana on top 4-1. He worked four innings, scattered five hits while giving up just one run and striking out one while moving his record to 2-0. He gave way in the ninth to junior Rick Erickson (Lake Zurich HS, Hawthorn Woods, Ill.). Erickson faced just three batters, striking out one and picking up his first save of the year.
Freshman Seth Davis (J.K. Mullen HS, Aurora, Colo.) started and went four-plus innings. He gave up two runs and three hits while collecting three strikeouts. He did not factor in the decision because he didn't go the required five innings as a starter.
The contest was scoreless until the Vikings broke loose for four runs in the top of the fourth off North Central starter Steve Lemm. Jeremy Juhl (Glenbard East HS, Lombard, Ill.) led off with a single and Mike Barker (Grandview HS, Centennial, Colo. - now resides in Marina del Ray, Calif.) doubled him to third. Grant Stewart's (Sterling HS, Sterling, Ill.) single brought home Juhl and Barker. Kurt Schmidt (Grayslake Central HS, Grayslake, Ill.) singled Stewart to second and that chased Lemm from the game in favor of Jake Staab.
After a sacrifice bunt from Jared McIntosh (Davenport Assumption HS, Davenport, Iowa) moved Schmidt to second and Stewart to third, Joe Cecchi (Romeoville HS, Romeoville, Ill.) singled both home to make it 4-0.
In the bottom of the fifth the Cardinals loaded the bases against Davis with nobody out but Martin came in and gave up a sacrifice fly and then got an inning-ending double play to minimize the damage to just one run. North Central scored a single run in the fifth to make it 4-2.
Augustana added an insurance run in the top of the eighth. Schmidt singled with one out, stole second, advanced to third on a long fly ball to center off the bat of McIntosh and scored on an infield error on a ball hit by Cecchi.
Martin started the ninth but gave up two hits before giving way to Erickson, who retired all three batters.
Augustana moved to 16-8 overall and 4-5 in the CCIW while North Central is now 15-7 and 6-3. The Vikings will host North Park in a three game series beginning with a double header on Saturday, April 14.