Art exhibition showcases seniors' development
April  16, 2012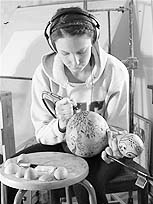 Taylor Banach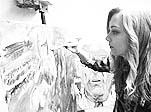 Melanie Battistoni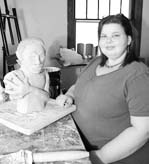 Amanda Eslinger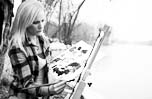 Sara Sides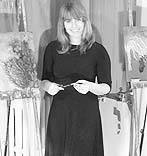 Veronica Smith
Five Augustana seniors majoring in art will display their work at the Augustana College Art Museum (3703 7th Ave.), as part of the Senior Studio Art Exhibition. The exhibition opens Saturday, April 28, and runs through Saturday, May 19. The museum is open from noon to 4 p.m., Tuesdays through Saturdays, and closed for final exams May 15-17.
The exhibition is the culmination of a process and the student's academic experience at Augustana. The process, known as Senior Inquiry, is a signature of the Augustana experience. It encourages seniors to demonstrate the critical thinking and communication skills they've developed and to reflect on the value of their work for the common good.
Students displaying Senior Inquiry projects are:
Taylor Banach, an art major from Lake Zurich, Ill., works in the unusual medium of gourds. Taking a cue from their natural beauty, she cuts, embellishes, transforms and groups the gourds to create novel sculptural effects.
Melanie Battistoni, an art and psychology major from Elmhurst, Ill., combined her interests in psychology and painting to develop a series exploring humanity's need for aggression as contrasted to society's aversion to euthanasia.
Amanda M. Eslinger, an art major from Coal Valley, Ill., has a ceramic sculpture portfolio that confronts the guises that people don to "mask" unpleasant social reactions.
Sara A. Sides, an art major from Cleveland, Ill., has works that explore the visual and spiritual components of nature that have fascinated her since she was a child, reveling in the rural outdoors.
Veronica Smith, an art, art history and environmental studies major from Plano, Ill., will display works concerning maps and traveling-both mentally and physically.
Each student has been guided by a faculty mentor and has worked countless hours to properly display their efforts, expression and progress made during the past four years.
"In my work, my goal was to hold up a mirror to some of the more unfamiliar rituals we have in our society," said Eslinger "I will admit that this proverbial mirror is more circus-like than that of a dressing room; some aspects are exaggerated, while others aspects are pushed back in to obscurity."
Smith explained where she sees herself going: "This show is not as much a culmination of my work at Augustana as it is a transition into the next phase of my artistic development." She added, "I've been able to explore more extreme sizes in this series. I really hope to keep working on an even larger scale."
The exhibiting artists will discuss their art in the Augustana College Art Museum during a 50-minute walking tour program at 10:30 a.m.on Tuesday, May 8. The public also is invited to the closing reception for the exhibition from 12:45-2 p.m.on Sunday, May 20.
Sam Schlouch
Senior Communication Director
(309) 794-7833
samschlouch@augustana.edu