April 11, 2012
2012 Season - Vikings up point total but drop to third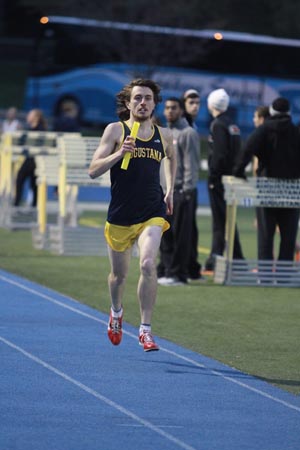 Matt Bowman and the Augustana Vikings jumped their point total to 196.13 in the weekly NCAA Division III dual meet power rankings but slipped one notch from second to third in the national poll.
ROCK ISLAND, Illinois – The Augustana men's track and field team continued its string of high level performances to start the outdoor season, and was rewarded on Tuesday with a number three ranking in the latest NCAA Division III national dual meet rankings. While the Vikings fell a spot from last week's edition, the team garnered 196.13 points, which was up seven from a week ago.
This poll, conducted by the U.S. Track & Field and Cross Country Coaches Association, quantifies the depth of each team. The team's total score is the sum of all points earned in each event. Two individual athletes are scored per event, as well as one relay team. The points are based on the best marks of an event in the current season, with the faster times and farther distances worth more.
College Conference of Illinois and Wisconsin (CCIW) rival North Central College nabbed the number one slot, collecting 201.84 points. Wabash College was second with 198.16, and Augustana was close behind in third. Rounding out the top ten were Claremont (187.10 points), Wisconsin-Whitewater (182.46), Washington (176.35), University of Redlands (174.16), Lynchburg (170.96), Salisbury (170.65), and Nebraska Wesleyan (168.92).
Two weekends ago, head coach Paul Olsen's team won the team title at the Viking Olympics, hosted by Augustana. The hosts easily outdistanced second place Wartburg, scoring 373 points to Wartburg's 161 in the six-team field. Last weekend, the Augustana men traveled to face fierce competition at the Wartburg Select in Waverly, Iowa, where they placed fourth overall.
Augustana will split up it's squad this weekend, sending the majority of the team to compete at the Western Illinois Invitational, which starts Friday, April 13 and continues on Saturday, April 14. Several distance runners will travel to Wheaton, Illinois to compete in the Wheaton College Twilight Meet on Saturday.
2012 NCAA DIVISION III OUTDOOR DUAL MEET POWER RANKINGS
Sponsored by the USTFCCA
As of 04/11/2012
| | | | |
| --- | --- | --- | --- |
| RANK | SCHOOL | REGION | POINTS |
| 1. | North Central | Midwest | 201.84 |
| 2. | Wabash | Great Lakes | 198.16 |
| 3. | Augustana | Midwest | 196.13 |
| 4 | Claremont McKenna-Harvey Mudd- Scripps Colleges | West | 187.10 |
| 5. | Wisconsin-Whitewater | Midwest | 182.46 |
| 6. | Washington | Midwest | 176.35 |
| 7. | University of Redlands | West | 174.16 |
| 8. | Lynchburg | South | 170.69 |
| 9. | Salisbury | Mideast | 170.65 |
| 10. | Nebraska Wesleyan | Central | 168.92 |