April 10, 2012
2012 Season - Smith named CCIW "Athlete of the Week"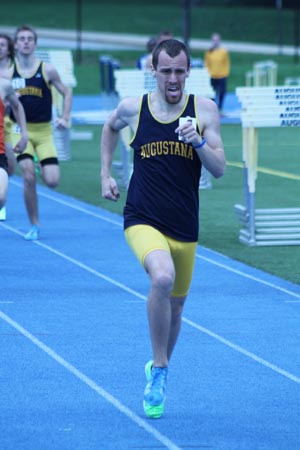 Junior Justin Smith was named the "Athlete of the Week" in CCIW after winning the 1500 at Wartburg Select Invitational on April 6.
ROCK ISLAND, Ill. - Augustana junior Justin Smith (Fenton HS, Bensenville, Ill.) has been named the "Athlete of the Week" in the College Conference of Illinois & Wisconsin, it was announced today. Smith becomes the Vikings' third straight winner of the honor in the CCIW during the current outdoor season.
Smith won the 1500 at the Wartburg Select Invitational in Waverly, Iowa on Friday, April 6. He turned in a time of 3:54.66 and that is the ninth fastest time in NCAA Division III this season.
Smith joins freshmen David Voland (Batavia HS, Batavia, Ill.) and Torre Harrell (Bloomington HS, Bloomington, Ill.) on April 3 and the 400 relay team of Jay Graffagna (Geneva HS, LaFox, Ill.), Greg Patton (Bloomington HS, Bloomington, Ill.), Keith Cline (Byron HS, Byron, Ill.) and Alex Rindone (Marmion Academy, Geneva, Ill.) on March 27 as previous Augustana winners this spring.
After winning the CCIW title in the mile during the indoor season, Smith hasn't slowed down during the outdoor campaign. He opened the outdoor season with a fourth place finish in the 800 at the Viking Open in 1:56.13 on March 24. He followed that with a win in the 1500 (3:56.59) at the Viking Olympics on March 31.
Following the winter sports season, he was named the winner of the Jack Swartz Award in the CCIW. The Swartz Award goes to the male and female athlete who best combines academic excellence with athletic achievement. Smith is a biochemistry major with a 3.77 grade point average.