April 10, 2012
2011-12 Season - Vikings continue to rank among nation's leaders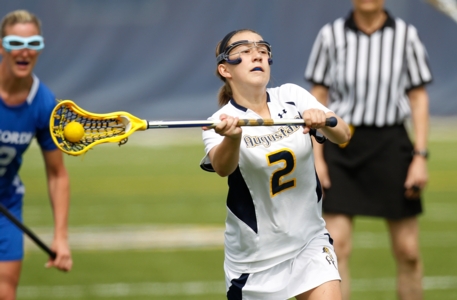 Freshman Hilary Kargl's 76 goals leads the nation and she ranks second in goals per game at 5.43.
ROCK ISLAND, Ill. - With three of the top 25 point-scorers in the nation, the Augustana women's lacrosse team continues to enjoy the most prolific offense at the NCAA Division III level. Freshmen Hilary Kargl (Sacred Heart Academy, Louisville, Ky.), Hannah Dickman (Stillwater Area HS, Stillwater, Minn.) and Christina Letmanksi (Glenbard West HS, Wheaton, Ill.) rank second, 22nd and 25th in points-which is a combination of goals and assists-to lead the Vikings to the top spots nationally in total points (389) and goals per game (19.07).
Kargl leads the nation in total goals with 76 and is second in goals per game with an average of 5.43. Her 15 assists bring her total point total to 91, also second nationally. Dickman's 65 points have come on 37 goals and 28 assists. Her assist total is the 14th-highest in Division III. Letmanksi, with 42 goals and 19 assists, ranks in the top 50 in each category.
While most of the buzz around coach Sara Tisdale's first-year program has centered on its offense. The defense has left its mark as well. Led by senior Maribeth Shea (Willows Academy, Chicago, Ill.) and freshmen Emily Pavlik (Lyons Township HS, LaGrange, Ill.) and Allie Roehrenbeck (Columbus Academy, Gahanna, Ohio), Augustana leads the nation with an average of 15.5 caused turnovers per game.
Freshman goalkeeper Sarah Osier (Naperville Central HS, Naperville, Ill.) ranks in the top 30 in saves (22nd with 112), goals-against average (26th at 9.01) and save percentage (30th at .489). The Vikings are 26th nationally in scoring defense, allowing an average of 8.79 points per game. When combined with the club's explosive offense, it yields a 10.29 goals-per-game scoring margin, which is fifth in the nation.
Tisdale's squad has a busy weekend coming up. Augustana plays at Trine in Angola, Indiana on Friday, April 13 at 5:00 p.m. On Saturday, the Vikings play Albion in Albion, Michigan at 11:00 a.m. and Alma in Alma, Michigan at 5:00 p.m. The team's season finale will be at North Central on April 25.